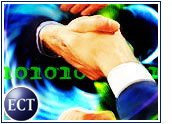 E*Trade (NYSE: ET) on Monday announced it will partner with Yahoo! (Nasdaq: YHOO) to provide customers with streaming financial data and access to trading through Yahoo's instant messaging technology.
E*Trade also noted that it will combine its launch of Yahoo! Messenger service with expanded access to trading tools for consumers.
Up and Coming
Citing the rise of instant messaging and research showing that this technology will surpass e-mail as the main communications tool for Web users within three years, E*Trade said it intends to broaden its consumer reach with the initiative.
"E*Trade Financial is now well positioned to capture a large share of that market with the launch of this product," said Pam Kramer, chief content development officer of E*Trade.
The two companies said users of the Yahoo! Messenger product will be able to receive streaming stock quotes, market updates via audio and video clips and other information, while simultaneously using Messenger to communicate with friends and family.
Exclusive Content
E*Trade added that it will begin producing exclusive video content, known as "IM the Money," for the product, which Yahoo! calls the "IMVironment."
The Messenger product also will include links that help users locate E*Trade ATMs and brick-and-mortar stores. The result, according to the financial services firm, will be a customer base that can "more easily access its suite of products and services."
Looking To Grow
The partnership comes at a time when E*Trade reportedly is in the running to acquire privately held competitor Datek Online Holdings. Although bids for Datek remain sealed, published reports indicate E*Trade is among a handful of suitors in a deal expected to be worth more than US$1 billion.
According to analysts, E*Trade has set the pace for other online financial companies by diversifying early and often, moving into the mortgage and bank businesses and setting up storefronts in Target stores and other locations.
That diversity helped the company withstand the stock market downturn and a plunge in trading volume. In mid-January, E*Trade reported its sixth straight profitable quarter, thanks to a combination of cost-cutting and improvements in its banking and mortgage units.
Sticky Sites
Meanwhile, online financial companies were singled out recently as the "stickiest" e-commerce sites, retaining customers for a more time per visit than most other sites, including general use portal sites like Yahoo!
The IM software is one of Yahoo's new products aimed at corporations and unveiled last year. In addition to IM, Yahoo! also has pushed video streaming and conference capabilities as part of this initiative.