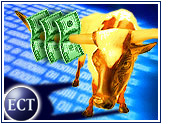 E*Trade Group (NYSE: ET) on Monday reported fourth-quarter earnings that exceeded Wall Street expectations as the online broker used diversified product offerings and cost-cutting measures to record its sixth consecutive profitable quarter.
E*Trade said its earnings were boosted by its mortgage and banking units, which benefited from a rush of home refinancing brought on by low interest rates during the fourth quarter. E*Trade financed $2 billion in mortgages in the fourth quarter alone.
But the company's online brokerage unit also saw gains in the fourth quarter as investors began to return to a rising stock market. The number of active brokerage accounts was up 10 percent from a year earlier to 3.5 million, E*Trade said.
"We made significant progress toward our goals despite a very challenging business and economic environment," CEO Christos M. Cotsakos said in a conference call. "Our industry has seen a lot of consolidation, allowing companies like E*Trade to emerge as leaders."
For the three months ended December 31st, E*Trade reported earnings, excluding one-time charges, of US$24.7 million, or 7 cents per share, on revenue of $345 million. The company earned $5.8 million, or 2 cents per share, during the same quarter in 2000 on $334 million in revenue. Analysts had expected earnings of 4 cents per share.
Bullish on 2002
For the second time in as many months, E*Trade raised its earnings estimates for fiscal 2002. The company now says it will earn 45 to 55 cents per share for the year. In December, E*Trade boosted its outlook from 34 cents per share to 40 to 50 cents per share.
"This could very well be a record year for E*Trade if we execute in a very rough and turbulent market," Cotsakos said. "Because of the economy, customers have become even more engaged in taking control of their financial futures."
E*Trade's diversification efforts continue, with operations in Germany and 17 new brick-and-mortar E*Trade stores in the United States opening in the fourth quarter. The company also opened a television production studio and said it plans to begin syndicating half-hour programs to cable stations around the country.
On Tuesday, the company announced its first life insurance product, another effort to leverage what Cotsakos called an affluent and savvy customer base.
Five and Counting
As it marks the five-year anniversary of its debut as a publicly traded company, its moves to diversify put E*Trade ahead of its pure-play competitors, Cotsakos said, while its flexibility makes it stronger than old-line financial companies.
E*Trade hit the five-year mark with 4 million customer accounts and $52 billion in assets under management.
"A lot of people wanted to see a serious market correction take place to see if we could survive, and we persevered," Cotsakos added.
Shares of E*Trade were down slightly in midday trading Tuesday to $11.99, still well off the 52-week low of about $4 hit shortly after the September 11th terrorist attacks shuttered U.S. stock markets for several days.