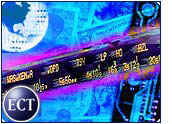 Online financial services company E*Trade (NYSE: ET) on Friday raised its outlook for next year's income and said it will buy back 20 million of itscommon shares from Internet investor Softbank.
"We're just increasingly optimistic about our earnings moving forward," E*Trade spokesman John Metaxas told the E-Commerce Times.
The company's strategy of diversifying beyond its online trading roots "has contributed a lot to our optimism," he said.
E*Trade said its mortgage subsidiary generated US$278.6 millionin mortgage loans during October and November, which were transferred to theE*Trade Bank portfolio.
To Beat Forecasts?
Mitchell Caplan, the company's chief financial products officer, said the move will help E*Trade's profitability by diversifying operationsand widening interest-rate spreads.
Income from continuing operations will total 40 to 50 cents per share in 2002, E*Trade said. Analysts' forecasts for 2002 were for earnings of 34 cents.
Softbank Deal
Meanwhile, the repurchase of shares from Softbank — for $7.28 pershare, a 13 percent discount to the stock's average trading price over 20days — "offers an extremely compelling value-creation opportunity," saidchairman and CEO Christos Cotsakos.
"This further reinforces our commitment to increasing shareowner value as we continue to execute on our strategy of building a strong, diversified financial services company," Cotsakos said of the repurchase.
Softbank, for its part, called the transaction consistent with itsdiversification strategy and said the sale was "driven by factors specific to Softbank." Softbank retains a 9 percent stake in E*Trade as it continues to hold more than 33 million shares.
"We remain confident in the direction and the leadership of E*Trade and believe that they are extremely well positioned for continued growth and success," said Ron Fisher, vice chairman of Softbank Holdings and a director of E*Trade.
Shares Rise
E*Trade shares surged Friday morning, gaining 66 cents to $10.46 in earlytrading. Over the past year, the shares have traded as high as $15.38 and aslow as $4.07.
In October, E*Trade managed to post an operating profit for the third quarterended September 30th, even amid a general stock trading slowdown and a five-day market hiatus following the terrorist attacks.
The company said its strategy of branching out beyond trading — includingits operation of kiosks in Target stores and its acquisition of market makerDempsey & Co. — helped it weather the storm.
Last month, E*Trade said it would also expand its geographic reach, openingan online investing Web site for Germanconsumers.