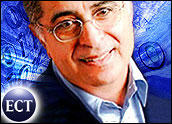 Internet powerhouse Yahoo! (Nasdaq: YHOO) reported better-than-expected results for the quarter ended in December, and said its long-time president, Jeff Mallett, will step down in April. Revenue for the quarter fell to US$188.9 million from $310.9 million in the same quarter last year and the net loss narrowed to $8.7 million, the company said Wednesday.
In addition, the company also raised its revenue outlook for the current year.
The news sent Yahoo! shares higher in early trading Thursday, with the stock gaining nearly $2.00 to close in on the $20.00 per share mark.
Beats Street
Over the past year, Yahoo! has reorganized, cut staff and costs, and emphasized new businesses that generate revenue from subscriptions, ratherthan advertising.
Yahoo! said that its net loss narrowed to $8.7 million, or 2 cents per share,from $97.8 million, or 17 cents, in the year-earlier quarter. The company posted a pro forma profit — excluding taxes and a range of charges — of 3 cents per share, better than the penny predicted by analysts.
High Note?
"While 2001 was a year of challenges and transition, Yahoo! adapted andexecuted to end the year on a high note, with fourth-quarter revenues andincome exceeding the business outlook we previously provided," saidchairman and CEO Terry Semel.
Chief financial officer Susan Decker said the focus for now is "balancingshort-term profitability with the investment required to drive sustainablegrowth," while the longer-term goal is "increasing revenue per user."
E-Commerce on the Rise
Revenue from online shopping was "not an overwhelmingly significant factor in our positive surprise" last quarter, Decker said during the conference call. "We're really still in a transition mode" in terms of shifting revenue to transactions and away from advertising, she said.
Decker said the company got about 80 percent of its revenue in 2001 fromadvertising. For 2002, she said, "we expect a more balanced mix" astransaction revenue begins to grow.
E-commerce was strong for Yahoo! in the just-ended holiday season. Thecompany saw an 86 percent surge in sales volume when compared with a year earlier.
"We are extremely excited about the future, as we have created a strongfoundation that will serve as a platform to permit us to drive profitablegrowth in the years ahead," Decker said.
Improving Outlook
Yahoo! said it expects first-quarter revenue of $160 million to $180million, with pro forma earnings of a penny or two per share. The forecastexcludes the results of online jobs company HotJobs.com (Nasdaq: HOTJ), which Yahoo! is in the process of acquiring.
For all of 2002, the company predicted revenue of $750 million to $800million, above its reported earlier forecast of $725 million to $785million. Pro forma earnings for the year will be 7 cents to 10 cents per share,Yahoo! said.
Veteran Departs
Mallett, meanwhile, is leaving the company in the hands of Semel, who tookover last April after Tim Koogle resigned. Yahoo! that said Mallet, who joinedthe company in 1995, is leaving "to take advantage of greater flexibility for family and business interests."
"For the past seven years, Jeff has worked tirelessly to help build Yahoo!into a powerful, global franchise," said Semel. "One of Jeff's greatestcontributions has been helping assemble the leading team that will carryYahoo! into its next phase of development."