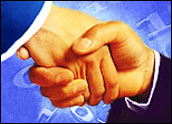 Looking to drum up new sources of online advertising revenue, powerhouseportal Yahoo! (Nasdaq: YHOO) announcedMonday that it has stuck a deal with ArnoldMPG to develop new Internet marketing campaigns for the media buying andplanning agency's clients.
As part of what the deal, Arnold MPG has agreed to purchase mediaand promotional programs on Yahoo's network of properties for its customer roster, which includesVolkswagen, McDonald's, the American Legacy Foundation, Chevron, Fidelityand Royal Caribbean.
Specifically, the agreement calls for the two companies to cultivate programsthat include standard media units, broadcast services, special onlinepromotions, and enhanced research and analysis offerings.
Financial terms of the arrangement were not disclosed.
Yahoo! chief advertising sales officer Harris Millard said that the type of commitment made by Arnold MPG "is necessary to support the continued growth and maturity of this marketplace."
Expanding Options
For its part, Arnold MPG said the deal will enable it to bring a valuable slate of online marketing services to its clients.
The Boston, Massachusetts-based company is a division of MPG USA, a US$3.4 billion agency network that is owned by Havas Advertising.
Looking for a Boost
The online advertising industry and the companies which rely on it formuch-needed revenue have been particularly hard hit by the economicdownturn.
According to Jupiter Media Metrix's AdRelevance unit, the overall decreasein online retail advertising throughout 2001 was most likely triggered byeroding consumer confidence in the midst of a gloomy financial market aswell as the deeper economic malaise brought about by September's terroristattacks.
Industry watchers forecast that online advertising will begin to improve later this year.
Striking Deals
Although its financial balance sheet was closely tied to the fate of theonline advertising market in its early days, Yahoo! has aggressively movedto diversify its income-earning potential with deal-making sprees.
Since the turn of the new year alone, the Sunnyvale, California-basedheavyweight has announced that it willdevelop personalized Web portals for the 16 million customers of healthcare and retirement benefits giant Cigna (NYSE: CI) and complete its acquisition of Internet job board HotJobs (Nasdaq: HOTJ).
On the e-commerce front, the company chalked up gains across itsnetwork of sites, repoting an 86 percent increase in online shopping purchases made by its cusotmers in the fourth quarter.
Yahoo! is slated to issue its complete fourth quarter and 2001 results thisweek.