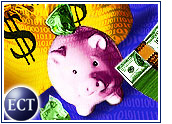 While many Internet sellers have seen their traffic slow this holiday seasondue to deep retail discounts that drove consumers back intobrick-and-mortar stores, Internet heavyweight Yahoo! (Nasdaq: YHOO) said Wednesday that its sales volume surged morethan 86 percent during the post-Thanksgiving buying period over last year'slevels.
The Sunnyvale, California-based company said the figure for its shoppingchannel outpaced Forrester Research's original holiday growth estimates of 10 percent by more than eight-fold.
The sales spike helped propel Yahoo! into the number two spot in Nielsen//NetRatings rankings of the top online retailers for the peak buying period between November 23rd and December 24th.
'Critical Period'
In all, Yahoo! estimated that its users spent US$10.3 billion online in thefourth quarter of 2001, with the most popular product categories rangingfrom video game consoles and digital cameras to toys and apparel.
"The holiday season is a critical period for Yahoo! Shopping, and we areproud to announce that our Yahoo! Shopping business has maintained extremelystrong growth momentum," said Yahoo! shopping vice president and generalmanager Rob Solomon.
"Our commitment to enhancing our consumer and merchantofferings is one of the driving factors behind our ability to successfullycapture increasingly more market share."
Slashing Prices
Seeking to build on this momentum, Yahoo! also announced that it islaunching a post-holiday sales center that will be promoted in its shoppingand auctions channels.
Some Internet marketers are taking a cue from real-world retailers, which are slashing prices to bargain-basement levels in an effort to prop up saggingearnings figures.
Yahoo! said that companies such as Eddie Bauer, Eluxury.com, Godiva, Old Navy, and SonyStyle will be offering exclusive online specials, as well as winter clearance sales of 50 to 70 percent off their merchandise.
Too Little, Too Late?
The dose of good news from Yahoo! helped stoke investor optimism in earlytrading, which saw the company's shares climb $1.50 to $18.17.
Other gainers on Wednesday morning included Amazon.com (Nasdaq: AMZN), which has repeatedly promised investors that it will finally post a pro-forma quarterly profit, and online auction giant eBay (Nasdaq: EBAY).
Despite the uptick in retail stocks, some Internet analysts have hintedthat online holiday sales may not grow at all this year. Last week,Forrester Research cut its estimate forspending during the holiday season to $8 billion, which would represent asignificant drop from the $10 billion it said consumers spent during the2000 season.
Forrester had originally forecast an $11 billion holiday season, which would haverepresented a modest 10 percent increase.
However, industry analysts said a surge in late-season online traffic holdsthe possibility that 2001 sales expectations may be exceeded.
Last week, Jupiter said the majority of online shopping activity seemed to be occurring closer to Christmas asconsumers held out to try to get better deals on their purchases. Jupiter isstill predicting sales of $11.9 billion for this holiday season.