Bob Stutz is a great guy. I have interacted with him occasionally over the years in his various senior postings throughout the CRM industry and always found him to be kind, generous and thoughtful. Last week he announced he was leaving his position as head of the Salesforce Marketing Cloud, which he's been at for four years, and taking a job as President of SAP's CX effort.
Stutz isn't just any CRM executive, because he's been in the thick of CRM at four companies — Siebel Systems, SAP, Microsoft and Salesforce. This latest announcement represents a return to one of his old employers. Wherever he's gone, Stutz has applied his vision of what CRM can be to the products of whatever company he was working for at the time.
Almost everyone I know says that Stutz has made important contributions too. At Microsoft, for instance, he took a CRM program that in my humble opinion was stuck in neutral, and got it on track.
I have nothing but praise for Bob, but I wonder if the companies hiring him might have outsized expectations for what any single contributor can do, even one who holds most of the reins. How much can one man do after all?
Nevertheless, Stutz's circuit of CRM's biggest companies suggests that, perhaps, some people on boards of directors may have fallen into believing in the Great Man Theory (GMT), the idea that some people are just indispensable. Is Stutz that kind of player?
Dire Circumstances
Discussions of the GMT often center on George Washington, whom many consider the indispensable man of the American Revolution. Washington's leadership and strategy, as well as his ability to work with a penny-pinching Congress, along with his ability to inspire his troops, make him a shoo-in for great man status.
Add the other faces on Mt. Rushmore, plus Franklin Roosevelt and Winston Churchill, and you have a good short list of greats — again, in my humble opinion.
What made those people great were circumstances — back against the wall, down to your last bullet, barbarians at the gate — dire situations that these people managed to triumph over. I am not sure that Stutz's career measures up to that, at least not yet. Just consider this table from Gartner.
---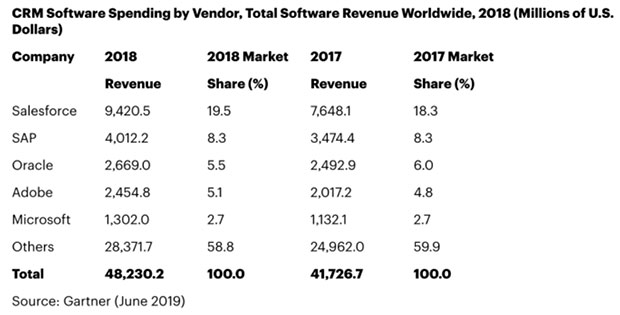 ---
It shows CRM revenues for most of the companies Stutz has worked for, and I don't know if the ranking would be any different if Stutz had not worked at most of them. What really stands out to me is that other vendors still control nearly 60 percent of the CRM market more than 20 years after Siebel Systems made its first billion.
A little less than 20 percent of the market goes to Salesforce, and the rest are in single digits. It suggests that no vendor other than Salesforce really is killing it.
If anything, and I know this is debatable, Salesforce — which has led the space for more than a decade — is the company that's done the most to shape CRM, thanks to the vision of founders Parker Harris and Marc Benioff. Both of them could be in contention for some GMT award if one existed.
Measures of Success
Perhaps the best explanation for Stutz's status and his move came in the TechCrunch article that heralded his announcement:"The move comes against the backdrop of lots of changes going on at the German software giant. Just last week, long-time CEO Bill McDermott announced he was stepping down, and that Jennifer Morgan and Christian Klein would be replacing him as co-CEOs. Earlier this year, the company saw a line of other long-time executives and board members head out the door including SAP SuccessFactors COO Brigette McInnis-Day, Robert Enslin, president of its cloud business and a board member, CTO Bjrn Goerke and Bernd Leukert, a member of the executive board."It would seem that Stutz has his work cut out for him but also that there is a green field with a lot of running room inside SAP. It appears it's at a point where what's needed is a stable hand on the tiller — a successful leader who is known to the rest of the team and can inspire them. Those would be the conditions necessary for great man status.
Washington saw the Revolution through to its end, and even in retirement he worked behind the scenes to convene the Constitutional Convention in Philadelphia. He knew his legacy was in jeopardy if the new country failed to develop a peacetime government, and he knew that rather than retire to his plantation he'd need to become the first president.
That's the position I see Stutz in today. He's been through the industry, absorbing a lot of knowledge and imparting quite a bit as well. This new posting shouldn't have a timer on it, and I doubt he'll be done in four years. I expect Stutz will succeed at SAP as he has in all his other postings — but I also expect that his success will be measured by whether or not he becomes the CEO.