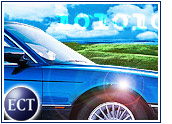 Automobile manufacturers and sellers need to continue revving up theironline research capabilities, because prospective buyers increasingly view theInternet as a valuable means to compare makes, models and prices, rather thanas a tool to close the deal, according to a study released Monday by Jupiter Media Metrix (Nasdaq: JMXI).
"The Internet is becoming an integrated component of the consumers' carbuying process by facilitating the gathering of pre-sale information," saidJupiter analyst Julie Ask. "The ability to research automobiles on scores ofWeb sites has created an educated customer base armed with information onceheld by captive dealers."
In recent months, the auto industry has aggressively used the Internet — with full-throttle advertising buyspitching a host of low-interest financing deals and purchasing incentives — and buyers have responded in kind, making such sites among the most visited. Far from this being an anomaly, Jupiter projected that such stepped-up consumer interest will continue unabated.
The research firm forecast that Internet-generated new car sales — or transactions that are completed offline at a dealership after successful online research — willincrease from nearly 13 percent of total new car sales in 2001 to 32percent in 2006, accounting for 5.7 million car sales.
Driver's Seat
In order to meet this surging demand and edge out stiff competition, Jupiter said it will be more critical than ever for automakers to cultivate customer relationships.
"Competing for those buyers inclined to shop online will require dealers toadopt a different skill set — one that focuses more on responsiveness,openness and service," said Ask. "Dealers who want to succeed must prepareto rise up to the challenge and adapt to a new breed of automotive buyers."
Looking to cut the time spent at dealerships, this new breed of connected car buyers relies on easily accessed and comprehensive product information. To that end, Jupiter said that 42 percent of consumers are most interested in finding detailed specifications on auto-related Web sites, while 23 percent value side-by-side comparisons and9 percent look for reviews from other buyers.
Similarly, a recent report by J.D. Power & Associates found that 62 percent of new-car buyers turn to the Web for information, up from 54 percent in 2000.
Cutting Costs
Although the study said the Internet will never be a "dominant source" forgenerating transactions among consumers searching for used cars, it foundthat Web sites will have a marked impact on matching buyers and sellers. Asa result, the study projected that 12 percent of used car sales will beattributed to the Web by 2006, up from 4 percent of such sales this year.
Auto buyers who are looking to trim costs will also increasingly turn to theInternet for financing options, the study said. While less than 1 percent of online consumers currently shop around online for financing fortheir new vehicle purchase, Jupiter said these buyers are "primed to unlock the potential of this early-stage market."
Over the next five years, the report estimated, the online car financingmarket will climb to US$32 billion in agreements and represent nearly 4 percent of total vehicle financing.
Winning Over Buyers
While roughly 60 percent of automobile-owning households are currentlyonline, Jupiter estimated that number will edge up to over 76 percent by2006.
The upturn stands to open an "unparalleled five-year window" foronline auto sites to shape customer behavior and win buyer loyalty, Jupiter said.
"The impact of the Internet on the automotive industry extends beyond theinitial transaction to lifetime vehicle ownership," said Ask. "Dealers mustuse the Web to build an adaptive relationship with the consumer, startingwith a rich understanding of customers' buying histories and extending tolifetime service of the vehicle."