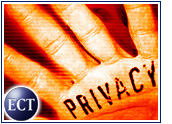 Despite their concerns about the security of personal information given online, only 3 percent of shoppers thoroughly review Web privacy policies on a regular basis, according to a study released Monday by Harris Interactive.
Harris said that nearly 64 percent of shoppers still either do not read the privacy notices on Web sites at all or only briefly skim them. The chief reasons cited for the disinterest by those surveyed included a lack of timeand a high level of difficulty in understanding the privacy policies.
To help bridge the gap, the study — which was sponsored by the Privacy Leadership Initiative(PLI), an association of CEOs from 15 major corporationsand nine business groups — recommended that businesses simplify the processwith easier-to-read notices.
To this end, the report found that 77 percentof consumers preferred a short and concise privacy policy.
"That consumers care deeply about privacy matters is a given," PLI executive director David Klaus said. "What is new here is that for the first time, we have a survey which quantifies growing consumer frustration as they wade through lengthy privacy notices."
Fine Print
Although the Harris survey seems to indicate a disconnect between consumer groups who are pressing for more stringent online protections and apathy by shoppers who avoid wading through detail-crammed privacy policies, the study concluded that buyers are interested in seeing more straightforward privacy notices.
For instance, roughly 70 percent of the respondents said that companiesshould use the same summary or checklist for their privacy policies.
Echoing these concerns, a separate report recently released by the UCLA Center for Communication Study found that Internet users continue to hold deep reservations about online privacy, including the security of theircredit-card data.
Educating Consumers
One response to those fears comes from Visa International, which is rolling out a new password program in which select merchants are participating. The credit-card giant is going to offer passwords that are tied to credit-card numbers, and the Web merchants will require that the passwords be entered before the online transaction will be completed.
The study said that another crucial role that e-businesses can play in fostering greater trust among e-shoppers is that of educator, using tools and resourcesthat clearly spell out the protections buyers have.
"This study should serve as a wakeup call to businesses to take the nextstep and educate consumers on matters of personal privacy," said Klaus.
Clearing Up Confusion
The survey's release comes one day before Klaus is scheduled to address the U.S. Federal Trade Commission's interagency workshop on consumer privacy. The workshop was spurred by the confusing privacy notices mailed to millions of residents earlier this year by financial services institutions.
In part, Klaus is set to discuss the PLI's work on "short notices" that will allow people to compare privacy notices from different companies and Web sites.
To compile data for its survey, Harris Interactive polled over 2,000 online adult consumers.