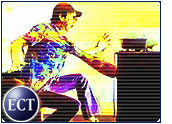 Interactive television (iTV) applications that allow consumers to shop, bank and play games are set to become mainstream consumer services in Western Europe, according to a report released Thursday by IDC.
"The development of interactive TV differs from other technologies in targeting a wide demographic base of households and displaying incremental growth," said Jason Armitage, senior research analyst of IDC's European consumer devices program.
IDC said that Western Europe is already at the forefront of iTV adoption, outpacing other geographic areas worldwide with 14 million households currently using interactive TV services and content.
Despite the cooling economy, iTV applications will demonstrate "notable increases" during the next two years, the study predicted. By 2005, roughly 79 million households will have access to iTV services, representing 51 percent of Western European homes, IDC said.
Near-Term Barriers
Even so, market conditions and funding concerns will affect the mass-market deployment of interactive TV in the short term, the firm said.
As a result, there will be a focus on applications that "have proven their viability with consumers, especially those demonstrating revenue-generating potential," said Armitage.
Specifically, the report, titled "Interactive TV: European Market Review and Forecast," said the segments that will enjoy additional marketing investments are interactive gaming and betting services.
Driving Growth
While the initial groundswell of demand for iTV services in Western Europecan be traced back to 1995, IDC said a number of critical factors haveconverged and will sustain the rollout of such services in the coming years.
For instance, interactive applications have become a core component of digital television services, IDC said. According to the research firm, interactive offerings are critical selling points for European digital TV service providers looking for a competitive edge.
As for technical infrastructure and marketing initiatives, the report said that initial levels of investment in building networks and raising consumer awareness have already been undertaken in key markets and are likely to fuel growth.
An additional adoption driver cited by the report is the drop in costs for service suppliers. The drop comes as a result of technology providers focusing on leveraging existing applications and offering cheaper solutions. Similarly, hardware costs have also declined.
The U.S. Picture
Echoing the expected growth in the European market, industry analysts also predict that the U.S. iTV market is primed for significant expansion.
A recent study issued by Jupiter Media Metrix predicted that television will become an important vehicle for e-commerce transactions in the coming years, accounting for US$3.4 billion in consumer spending by 2005.
The prospect of future growth in the U.S., however, has not preventedAmerican companies from attempting to capitalize on the European market,where interactive TV usage has made further inroads.
Microsoft Moves
In June, for example, Microsoft debuted its iTV software with TV Cabo of Portugal — the software giant's first TV technology deployment after investing billions of dollars in the cable TV industry.
The service was designed to deliver e-mail, TV banking, online shopping, digital video recording and high-speed Internet access over TV Cabo's broadband cable network, using Microsoft TV software.