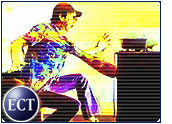 Television will become an important vehicle for e-commerce transactions in the coming years, according to a study released Thursday by Jupiter Media Metrix. The research firm said that the majority of TV-driven buying will soon be transacted via interactive television (iTV) shopping programs, with viewers using remote control devices, instead of by telephone with viewers calling in to buy showcased items.
Despite the predicted growth, however, there are obstacles in the way of iTV shopping.
"Even though there's money to be made in the iTV space, carriers,programmers, advertisers and merchants are struggling with models to justifyiTV deployment," said Jupiter senior analyst David Card.
The report — "iTV Revenues: Positioning for Incrementaland Diversified Revenue Streams" — predicted that iTV spending per household will remain significantly less than the amount spent on average for Internet-based shopping.
Entry Barriers
The research firm said that iTVshopping will likely face many of the same entry barriers that Internet-based e-commerce has faced.
Those barriers include the inability of shoppers to physically inspect a product, the lack of instant gratification after purchase, and the fact that shipping costs add significantly to the total bill per transaction for both iTV and Internet-based shopping, when compared to real-world shopping.
Fewer Phone Sales
The primary driver of digital TV shopping will be the "cumulative shift"away from purchases made over the phone, the report said.
Jupiter predicted that the swing to iTV buying will be especially lucrative forthe parent companies of the major shopping channels — including the Home Shopping Network, QVC and Value Vision — that each claim a dedicated user base.
Potential Cost Savings
The study estimated that iTV shopping programs will pull in $3.4 billion by2005. Moreover, the report said that the programs eventually provide cost savings for thenetworks by replacing some call-center activity.
Additional revenue streams cited by Jupiter for interactive television include iTV malls — where viewerswill be able to watch Web-like catalog progamming that merchants provide locally — and integrated iTVshopping, in which consumers can interact electronically with product offers embedded in TV commercials or programming.
These promotions will be particularly well-positioned to leverage the tendency of some consumers to make impulse buys, the research firm said.
Advertising Picture
Jupiter said the near-term iTV advertising revenue picture is "cloudy," with interactive advertising likely to make up less than 10 percent of all U.S.-based TV ads.
iTV will be fragmented by both geographic and technical issues for the next 18 to 24 months, the report said. However, the study also suggested that this fragmentation presents an opportunity for third-party advertising networks, because they will be theonly ones able to service national iTV campaigns.
"Outside of video-on-demand, the new business that iTV brings will divideevenly between shopping and advertisements," said Card. "Advertising won'taccount for more revenues than shopping until 2005, due in part to currentU.S. economic conditions."