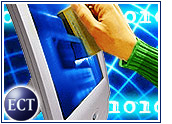 Spurred by the spate of recent anthrax scares, U.S. consumers are increasingly turning to electronic billing and payment channels to allay mail safety concerns — with roughly 32 million Americans expected to view credit card and other statements online by the end of 2001 — according to data released Monday by Gartner (NYSE: IT).
The Stamford, Connecticut-based research firm said the figure marks a 60 percent spike from the 20 million consumers who had viewed billing statements online by the end of 2000.
Although Gartner said that stepped-up marketing campaigns by banks, credit card companies and other financial companies are partially responsible for the shift, the study found a distinct correlation between the first news report of anthrax contamination in the mail and the increased use of Internet billing.
Gartner said its clients registered a 20 percent increase in online bill enrollment since traces of anthrax began to be found in mailings, postal facilities, media outlets and government offices.
Looking ahead, Gartner forecasts that the number of consumers viewingbills electronically will climb to 64 million by the end of 2003.
Already Growing
Prior to September's terrorist attacks and the subsequent emergence ofanthrax in the public sphere, Internet bill payment services were alreadybeginning to increase their adoption rate among consumers.
"Even without newly emerging mail safety concerns, we have found thatelectronic billing has finally started to take off in 2001," said Gartnervice president and research director Avivah Litan. "One major factorunrelated to recent events is that credit card issuers have been verysuccessful at attracting consumers to online account management by giving them value-added services like daily balances and responsive self-service."
Dovetailing with Gartner's findings, a recent report from the Yankee Groupestimated that 8.7 percent of American consumers will elect to pay bills online this year, up from 5.1 percent in 2000. Yankee said the jump can be attributed to aggressive offerings by bill payment operators of incentives, such as frequent flier miles and Web shopping certificates.
Where To Pay
As part of its survey of U.S. consumers, Gartner found that their preferences for choosing how to receive and accessbills online often varies. The most popular online bill pay options are bank andbrokerage firm Web sites, America Online, Yahoo! and Quicken.
While more than 48 percent of those interviewed by Gartner said they favor going directly to their creditors' and billers' own Web sites to access and pay bills, another 24 percent prefer to receive a consolidated set of bills at their bank's site.
"The billers have done the best job in providing easy-to-use services, whilebanks and other service providers who aggregate consumer bills still have along way to go in providing comparably easy services," said Litan.
Stumbling Blocks
Despite the recent growth spurt, industry analysts say Internet bill payment service operators have to address a number of key concerns — such as consumer data security, complicated enrollment processes, and high service fees –before online bill payment will make greater inroads among consumers.
"Although recent events are providing customers with more reasons to startaccessing their bills online," said Litan, "the barriers to getting startedare still too high for most consumers."