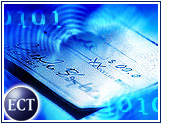 Consumers are becoming more interested in paying their bills online, though the number of people who actually do so remains low, said a report releasedMonday by the Yankee Group.
This year, 8.7 percent of consumers surveyed paid their bills over the Internet, up from 5.1 percent in 2000, Yankee said.
"Considering the growth we've seen in the past, it's not a bad growth rate," Yankee director Paul Hughes told the E-Commerce Times.
Hughes said that banks, credit-card companies and others have been pushing hard to get customers to pay their bills online, offering incentives like frequent-flyer miles and Web certificates to get people to sign up for e-billing programs.
"They're really trying to do everything they can," he said. "They're trying to leverage that relationship with their customers."
In the past, Yankee said, billers like telecom companies, Internet service providers (ISPs) and banks did not do much to get consumers to use the Web to paytheir bills. However, many have now focused their efforts on marketing, and theresults are showing, the report said.
Convenience, Time
Yankee said that among consumers who used electronic bill-payment services, 28.7 percent cited the convenience of not having to write checks as the primary benefit. Another 14.9 percent said saving time was their main motivation.
Hughes said BellSouth (NYSE: BLS), AT&T (NYSE: T) and American Express (NYSE: AXP) are among large billers that have been successful at marketing their online billing services and making them easier to use.
"Ultimately, the provider that can offer simple log-in and password access, and provide the consumer with the largest bill-access point, will own them in the long term," said Hughes.
Market Wide Open
While consumers tend to view banks as the "ultimate bill consolidator," other service providers can also move to capture a share of the small butgrowing market for online payment services, Hughes said.
Concerns about security are "starting to wane, which is good," said Hughes.
According to Yankee, the online billers are "extra-cautious in ensuring their customers feel very secure." Many sites, for example, automatically log the user off after acertain amount of time, or make it impossible to log back in immediately after logging off.
"Whether the rate of growth will continue at [its current] level, it's tough to say,"Hughes said. "I think you'll continue to see a lot of efforts being pushed (togain and keep customers)."