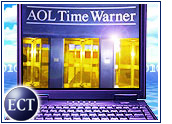 AOL Time Warner (Nasdaq: AOL) late Monday lowered its earnings forecast for the quarter just ended and issued a bleak outlook for the current year. Results will include a first-quarter charge of up to US$60 billion to cover the declining value of Internet stocks since the media giant was formed last year.
AOL said the one-time accounting charge was necessary in order to comply with a new accounting standard governing how goodwill is measured. Companies typically use goodwill charges in balance sheets to account for the value of acquisitions.
Coming Up Short
Fourth-quarter results, to be reported on January 30th, will also includesome charges. A $50 million charge will cover the merger of America Onlineand Time Warner, while another $1.5 billion to $1.8 billion in non-cashcharges will cover declines in the company's investment portfolio.
Before the charge, taxes and other items, AOL said it expects earnings ofjust under $10 billion for the full year 2001 on revenue of a little more than$38 billion. Fourth-quarter earnings before interest, taxes,depreciation and amortization will be $2.7 billion, and revenue will total$10.5 billion. The figures are below analyst projections.
No Recovery
AOL also said its business plan for the current year "assumes no recovery inthe economy" even as it makes "substantial investments" in its businesses tomake sure they are in a position to benefit when the climate improves.
Overall, CEO Jerry Levin said the results reflect "a difficult economicenvironment that included the weakest advertising market in memory." Levin noted that AOL achieved "important goals" in all its divisions, including America Online, Time and HBO.
Bright Spot
In line with its expansion strategy, AOL also announced Monday a plan to take over full ownership of AOL Europe, its Internet joint venture with Germany's Bertelsmann. Europe has been a big growth area for AOL.
AOL said it will buy Bertelsmann's 49 percent interest in AOL Europe, paying $5.3 billion in cash this month and another $1.45 billion in July 2002. The European unit's financial results will be folded into overall earnings at thebeginning of 2002, AOL said.
The $6.75 billion price tag is not too high considering the potentialbenefits, said Rob Lancaster, Internet market strategies analyst at YankeeGroup. "The upside for AOL is huge," Lancaster told the E-Commerce Times.
Europe has been a focal point for AOL. Most of the company's growth lastyear was in Europe, said Lancaster. Membership in AOL Europe has grown by40 percent this year to 5.1 million people, the company said, which claimsthe service is the only one of its kind with operations in all three of Europe's largest countries — Germany, France and the UK — while ranking No. 1 or 2 in each of those markets.
Favorite Stock
Goldman Sachs analyst Anthony Noto, while lowering estimates to reflectthe reduced guidance, said he continues to recommend AOL as "our favoriteentertainment/Internet stock" because of the company's "unique businessmix, industry-leading growth and an attractive valuation."
The stock remains "attractive," Noto wrote in a Tuesday research note,with a 12-month target price of $40 and a "downside" of about $30.
"The key overhangs that have been pressuring the stock (AOL Europe, ATT, managementchanges, and uncertainty of growth rate) have been eliminated," wrote Noto.
Slow Growth
"Subscriber growth in the U.S. has slowed dramatically for AOL, and it islooking to replicate some of the good business decisions it's made in Europe," Lancaster said. The strategy, he added, "is working," and buying out Bertelsmann is "the logical next step toward becoming as large internationally as they are in the U.S." Not having a big partner to answer to will help AOL put its own business strategy in place, he said.
Levin said AOL Time Warner also plans to use its magazine and other mediaproperties to make AOL Europe "the driver for company-wide growth ininternational consumer markets that AOL has become in the U.S."