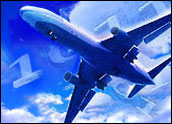 Travelocity (Nasdaq: TVLY) on Thursday lowered its outlook for fourth-quarter revenue, sayingairline ticket sales in December were slower than expected.
The Fort Worth, Texas-based online travel company said revenue for the quarterended December 31st will total about US$68 million, about 9 percent belowprevious guidance, but up from $65 million in the year-ago period.
In midday trading Friday, Travelocity shares were down $3.58 to $23.86.
Travelocity's shares now hover well above their 52-week low of $9.92, set on September 17th. The 52-week high of $38.79 was attained last May.
Prudential Securities reportedly reiterated a hold rating on Travelocityshares Friday morning, while CE Unterberg Towbin was said to have repeatedits buy recommendation.
Shares of Travelocity — and of its online travel rivals, Expedia (Nasdaq: EXPE) and Priceline.com (Nasdaq: PCLN) — were strong performers before the September 11th terrorist attacks put a damper on the travel industry.
Bottom Line
Travelocity plans to report fourth-quarter results on January 16th. InOctober, the company reported a third-quarter pro forma profit of 9 cents per share onrevenue of $78.5 million. After taking into account charges and other costs,the company posted a net loss of $13.3 million for the third quarter.
Pro forma earnings for Q4 will be within the previously announced range of 8 cents to 11 cents per share, the company said.
Continental Alliance
Also on Thursday, Travelocity and Continental Airlines (NYSE: CAL) announced a marketing agreement that involves joint promotions and advertising on Web sites and by e-mail.
In October, Continental said it would stoppaying commissions for fares booked over the Internet. That news sentTravelocity shares plunging as analysts warned the lost revenue could hitthe company hard.
But Travelocity president and CEO Terrell B. Jones said he expects revenueto grow 20 to 30 percent this year.
Looking Ahead
Streamlined customer service, diversification and a rise in consumerspending on online travel should help boost revenue as the travel industryrebounds, Jones said. Travelocity has built up its business in such areas ascruise tickets, vacation planning and a concierge service that letscustomers reserve theater tickets and restaurant tables.
In the just-ended fourth quarter, however, "unexpectedly slow" airline ticketsales, terrorism fears and airfare reductions resulted in transactionrevenue that was 15 to 20 percent below expectations, according to Travelocity.
Advertising and other revenue in the quarter came in "slightly" better thanexpected, the company said.