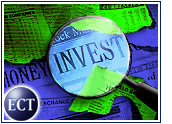 Expedia (Nasdaq: EXPE) said late Monday that business recovered from the September 11th terrorist attacks faster than initially predicted, with the online travel company posting better-than-expected results for its fiscal first quarter of 2002, including earnings (before non-cash items and expenses) of US$15.1 million.
The net loss for the quarter ended September 30th, meanwhile, narrowed to $4.8 million from $30.8 million a year earlier.
According to president and chief executive officer Richard Barton, the expansion of Expedia's hotel and package-focused merchant business helped it "weather the storm" experienced by the travel industry since the events of September 11th.
"While we expect these events to continue to affect our results, the steadily recovering travel business and our strong balance sheet will allow us to continue to build on our past successes," Barton said.
Expedia's pro forma first-quarter earnings compare with a loss of $1.6 million in the year-earlier quarter. The latest results came in at 24 cents per share, topping the 15 cents expected by analysts.
Hotels Up, Flights Down
Revenue rose 89 percent from a year earlier to $79.5 million, as higher sales of hotel, car, package and other bookings offset a drop in revenue from air tickets and licensing activities, Expedia said.
Gross travel bookings of $723 million were 55 percent higher than in theyear-earlier quarter, but 10 percent below second-quarter levels, astravelers cancelled reservations following the attacks.
Expedia shares rose early Tuesday, gaining 9 percent, or $2.63, to reach $31.86 by mid-morning.
Partial Success
Expedia chief financial officer Gregory Stanger said the results "reflect acombination of a very successful partial quarter and a difficult final threeweeks." Transaction volume during the first half of October rebounded tobetween 80 and 85 percent of early-September levels and was up 50 percentfrom the same period last year, Stanger said.
Looking ahead, Expedia said it expects earnings before non-cash items of $4 million to $5 million for the current quarter, on revenue of about $60 million. For the year ending in June, the company said it expects revenue of about $310 million and earnings of about $40 million before non-cash items and other expenses associated with the planned sale of a majority stake in Expedia to USA Networks.
USA Networks is set to acquire a 75 percent share in Expediafrom owner Microsoft in an all-stock deal, although Expedia shares have been trading below the range the deal requires.
'Attractive Investment'
Goldman Sachs analyst Anthony Noto repeated his view of Expedia as a marketoutperformer following the report.
"The merchant model, combined with unique technology, drove market-share gains and solid margins in a tough environment," Noto wrote in a research note.
Expedia's diversification across travel sectors like air, packages, lodging and cars, along with its technology and planned alliance with USA Networks, make the stock an "attractive investment for long-term investors," Noto wrote.
Industry Recovers
Expedia rival Travelocity (Nasdaq: TVLY) also performed better thanwas predicted. On October 18th, the company said profit reached a record $4.9 million in the quarter endedSeptember 30th, even as revenue dropped.
In the days just after the attacks, online travel companies lowered their outlooks for the quarter, asairlines canceled flights and customers delayed travel plans. Since then,however, Internet travel has started to recover.
Another big online travel company, Priceline.com (Nasdaq: PCLN), isscheduled to report quarterly results November 1st.