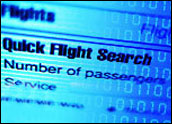 Online travel companies Travelocity (Nasdaq: TVLY) and Priceline (Nasdaq: PCLN) late Tuesday warned that the terrorist attacks of September 11th may hurt results later this year as consumers and businesses cut back on travel.
Like rival Expedia (Nasdaq: EXPE), which earlier in the day said it expects business to pick up later in the year despite a drop in bookings and a rise in cancellations, Priceline and Travelocity said they expect to eventually recover.
The attacks came as the companies were beginning to eye profits in a sector that has become a bright spot in e-commerce. Now, analysts expect travel in general to suffer as consumers and businesses cut back on flying.
Travelocity Cuts Forecast
Fort Worth, Texas-based Travelocity said it expects earnings before special items to total 8 to 10 cents per share for the quarter ending September 30th, in line with previous projections.
"Because of our stronger-than-expected profit performance in July and August, we are maintaining our earnings guidance for the third quarter, although revenues will be below our guidance," said chief financial officer Ramesh Punwani.
Punwani commented that it is too early to quantify the full impact of the tragedy on the fourth quarter, but that the company is working diligently to manage expenses. Thecompany, he said, will issue an updated fourth-quarter projection when itreports third-quarter results in October.
"With no debt and over $100 million in cash and marketable securities, our strong balance sheet supports the long-term financial viability of the company," Punwani said.
Dealing With Delays
Travelocity president and chief executive officer Terrell Jones said that Travelocity's"highest priority" at the moment is to get travelers where they need to go"as conveniently as possible." Travelocity is issuing new tickets andrefunds to customers whose plans were disrupted by the terrorist attacks.
"Individually, we all feel the effects of this tragedy," said Jones, "and as a business, the travel industry is feeling the immediate effects — as is every business in some way."
Travelocity's bookings are running at "more than 50 percent" of prior levels, up from 30 to 40 percent in the days just after suicidal terrorists hijacked four airliners and destroyed the World Trade Center and part of the Pentagon.
"While we may not be able to control those effects in the near term, our business model is sound," Jones said. "We fully expect improved growth in travel spending in 2002."
Priceline Pickup
Priceline, meanwhile, said the attacks "have resulted in a significant decrease in the company's forward travel bookings." Reservations, however, have picked up somewhat over the past two days, led by hotel services, rental cars and, finally, airline tickets.
Bookings for all travel products on Tuesday were running at 35 percent ofpre-attack levels, Priceline said, down from 40 percent a day earlier.
Revenue for July and August totaled about $245 million, showing "we were on our way to meeting our financial targets," said Priceline chairman and CEO Richard Braddock.
Priceline said it expects revenue for the quarter as a whole of $280 million to $300 million, in light of "significant" refunds and cancellations. Sales have "begun to recover gradually in recent days," Braddock said.
Weathering the Slowdown
According to Braddock, predictions as to the extent and the timing of a full recovery are still premature, but the company expects business to recover at roughly the pace of theoverall travel industry.
"We believe Priceline.com is ready and able to weather a travel slowdown," said Braddock.
The company had $165.7 million in cash and no debt at the end of the second quarter, and has successfully turned itself around by jettisoning unprofitable operations, he said.
Reservations Impacted
On Wednesday, Sabre Holdings (NYSE: TSG),which owns 70 percent of Travelocity and provides technology that powersairline reservations systems, said it, too, will be hurt by a travelslowdown, and cut its projections for the current quarter.
"While Sabre had seen a decline in U.S. business travel in the first half of the year, we were on course through August to meet our third-quarter projections," Sabre chairman, president and CEO William Hannigan said. "However, as a result of the terrorist activities of September 11, travel has been significantly impacted, thus prompting the company toreassess our near-term financial projections."