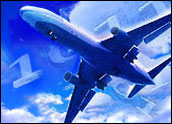 A one-day airfare sale helped increase sales more than 70 percent at Travelocity.com (Nasdaq: TVLY), the travel site said Monday.
Data released by the site and e-commerce infrastructure provider comScore Networks found that while the fare discounts on American Airlines (NYSE: AMR) tickets led to a 19 percent drop in prices, it also prompted a 71 percent rise in daily sales.
During the one-day promotion, which also involved the travel site at Yahoo! (Nasdaq: YHOO), American Airlines tickets accounted for 57 percent of all sales on Travelocity.
Bookings at AA.com rose 93 percent for the day, according to the same data.
An earlier one-day sale at the three sites saw sales increase about 24 percent, Travelocity said, but also set a one-day ticket sales record.
Up at Yahoo!
According to Yahoo! vice president and general manager of its media group Matt Rightmire, the two one-day fare sales with American Airlines resulted in unprecedented ticket sales on Yahoo! Travel.
Traffic to Yahoo! Travel rose 86 percent on the day of the first sale, August 8th, when compared to a non-sale day a week earlier, Rightmire said. Likewise, traffic to the portals travel site rose 82 percent on the second sale date, August 23rd, versus a non-sale day a week earlier.
Wider Trend
The theme of the Travelocity report is buttressed by a Nielsen//NetRatings study released Friday, showing that deep discounts on airfares have boosted traffic to several airline sites over the summer.
That study, which examined traffic during the week before the American Airlines one-day sale, found that visits to US Airways' site rose 72 percent over the week before, while Continental Airlines recorded 34 percent week-to-week growth.
Airlines have turned to summer fare sales to help fill seats left empty by a decline in business travel brought on by a softening economy, according to analysts.
"Some one-day sales geared toward certain airlines usually happen this timeof year because fall is traditionally a slow travel season," NetRatings director and chief analyst Lisa Strand told the E-Commerce Times. "But this year,that attention is being poured more on the online world."
E-Mail Marketing
Strand added that she not only expects Travelocity, Yahoo! and American to continue their strategy, but that others will start to follow suit. Part of the success of the one-day promotions is that they generate strong word-of-mouth.
"Viral e-mall marketing works very well for airlines," Strand said. "A lot of people areusing [e-mail] ads to click through. Airlines have had really good luckwith those promotions; often the e-mail fares are customized."
UK Move
Meanwhile, Fort Worth, Texas-based Travelocity said Friday it had reached a deal to acquire Stansted, UK-based online travel agency Air Tickets Direct. Terms of the deal were not disclosed.
The acquisition — which comes as Travelocity begins to tackle the European market through deals with British Airways and Lufthansa — gives the site a dedicated call center for offline sales support. Air Tickets Direct operates a call center near Stansted Airport with 67 sales consultants.
Previously, Travelocity had used third-party call centers to back up its online support offerings.
Zeal for Deals
"As we continue to grow and expand in Europe, it becomes more cost-efficient to bring sales and customer service directly under the Travelocity banner," said Jeff Lavender, European vice president for Travelocity.
As it battles with rivals including Orbitz and Expedia.com, Travelocity has been expanding both geographically and with its service offerings.
In June, Travelocity said it would begin offering last-minute travel service through Site59.com. Since then, Sabre Holdings, Travelocity's parent company, has said it would offer the Web site's search capabilities to its real-world travel agent clients across the country.