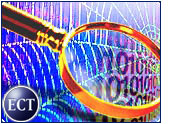 No one is quite certain when it will happen. Estimates range from the fourth quarter of this year to early or mid-2002. But it is virtually certain that eventually, the economic tide will begin to rise again.
Analysts and company executives say the companies that did not stop planning for growth, investing in themselves and grabbing market share during the current downturn will be the ones poised to solidify their positions when times get better.
"Eighteen months ago, a lot of companies were running around with their heads cut off, trying to get online and start getting market share," RetailExchange.com chief executive officer Ken Frieze told the E-Commerce Times. "This is a chance to do things in a more controlled atmosphere, to do them right."
Naturally, some companies are unable to do anything but hold on for survival in tough times. With many investors sitting on their hands, especially when it comes to online endeavors, those in the best position to act are those with brick-and-mortar counterparts.
Make a Deal
RetailExchange, for instance, which connects buyers and sellers of overstocked goods, is backed in part by Gordon Brothers, a Boston, Massachusetts-based brick-and-mortar liquidator that has been in business for nearly 100 years. With the Gordon backing, RetailExchange bought its largest competitor, TradeOut, early in July.
"It's definitely a good time to do deals," said Frieze. "But they still have to be deals that address the long-term."
Other companies have attempted to consolidate their gains in the same way. Monster.com and parent TMP Worldwide (Nasdaq: TMPW) have been on a shopping spree this year that included buying up its top competitor, HotJobs.
The Good Old Plan
That's not to say that sudden changes are recommended for companies. In fact, slow and steady might still win the race.
"Good companies stick to their plans in good times and bad," Forrester Research analyst Christopher Kelley told the E-Commerce Times. "If the plan is good, why throw it out?"
Nevertheless, many companies have looked to take advantage of the slump in various ways. For instance, with the price of advertising at a low ebb, e-tailers such as X10.com and Half.com have blanketed desktops with pop-up ads.
"There's a lot of blasting going on," Gartner e-CRM analyst Adam Sarner told the E-Commerce Times. "Everyone is throwing ads everywhere right now. It's probably not a good strategy long-term, but if the investment up front is minimal, it probably can't hurt."
No Freeze
The same marketing blitz has moved into traditional media as well, where the handful of contending travel sites are a ubiquitous presence during TV commercial breaks.
For the moment, whether the blanket approach translates to online dollars is still anyone's guess.
Other research from Gartner has pointed out that some companies continue to invest heavily in e-business infrastructure, hoping to be prepared for the next upturn.
Help Wanted?
Still others say now is also a good time to be shopping for employees.
"Good companies don't stop searching for talent, ever," said Monroe Moseley, a recruiter at Boston, Massachusetts-based job search firm Isaacson, Miller. "They never fully shut down their searches because this is the time to be buying."
That is doubly true in e-commerce, where thousands of employees have been cast off by failed dot-coms.
"Given how hard it was to find good people in the last upswing, I think more companies are trying to find ways to get people into the fold now if they can do it," Moseley told the E-Commerce Times.
Ready, Set
As for which companies will be ready to soar when the economy provides a strong tailwind, analysts have their money on big names that have stayed on track during the downturn. Names like eBay (Nasdaq: EBAY) and Amazon.com (Nasdaq: AMZN) come up often as potential big winners if things get better.
But some prognosticators also point out that growth in consumer spending might not ever be as robust as it was when e-commerce got first its legs in 1999 and early 2000. That type of exuberance may come around only once in a lifetime, said Frieze of RetailExchange.
"Good companies work in all types of weather," he said.