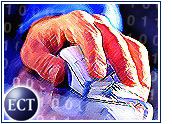 The number of Americans with access to the Internet has grown 16 percent over the past year, with 58 percent of U.S. households now online, audience measurement firm Nielsen//NetRatings said Monday.
That rate, which covers July 2000 to July 2001, is slower than the 41 percent growth seen the previous year. Growth is now "being driven by late adopters and by more aggressive use from the enormous existing Internet population," NetRatings vice president of analytical services Sean Kaldor said.
"Despite a troubled economy and slumping PC sales, adoption of the Internet continues to grow at double-digit annual rates," Kaldor said. "The Web long ago captured early adopters, and is now reaching the latter half of mainstream America."
More than 102 million U.S. households, or 58 percent, now have Internet access, according to NetRatings. A year ago, the figure was 52 percent, and in July 1999, it was 39 percent.
More People, More Time
Web surfers are spending more time online and accessing the Internet more often, the report found. Last month, users spent an average of 10 hours and 19 minutes online, up 7 percent from the nine hours and 14 minutes recorded a year earlier.
Kaldor said those numbers are impressive, and growth is likely to continue.
"Compared to other communications and media technology, Internet adoption has reached nearly three out of five homes almost overnight," he said.
Free to Fee
Despite the growth, companies that provide Internet services have been forced to look for ways to offset declining advertising revenue. Juno Online Services (Nasdaq: JWEB) and NetZero (Nasdaq: NZRO), the two biggest providers of free Internet access, plan to merge, and are trying to boost the portion of revenue they get from paid services.
Content providers are also beginning to charge for formerly free services. Yahoo! (Nasdaq: YHOO) in April said it would start charging fees for access to financial content, and has also instituted listing fees for sellers on its auction site.
E-zine Salon has also begun charging for some formerly free services, as have others looking to make money and stay in business.
'Ample Room' to Grow
The NetRatings report also said that the Internet will continue to be a growing force in communications.
"While PC and Internet penetration have far exceeded many other types of consumer devices, there is still ample room to grow before reaching the 98 percent penetration levels of telephones and TVs," said Kaldor.
During July, sites under the umbrella of AOL Time Warner (NYSE: AOL) were the most visited, with 77.43 million users spending an average of one hour and 12 minutes on them, according to NetRatings.
Yahoo! was next, with 68.99 million unique visitors staying two hours and 10 minutes, followed by MSN, with 62.03 million visitors at one hour and 44 minutes.