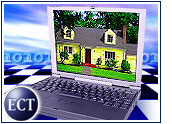 Homestore.com (Nasdaq: HOMS), the dominant online real estate company, overstated revenue for the first threequarters of last year, possibly by as much as US$95 million, according topreliminary results of an internal audit of company accounting practices.
Homestore said late Wednesday that accounting errors involving onlineadvertising revenue resulted in a revenue overstatementof between $54 million and $95 million for the first nine months of 2001.
Results for the quarters ended March 31st, June 30th and September 30th willbe restated to reflect the adjustments, the company reported, and in the meantime "investors should not rely" on previous financial statements for those periods, the company said.
Trading Halted
Trading in Homestore shares was halted on December 21st, when the companyissued a brief statement saying its board's auditing committee was reviewingfinancial statements and would likely restate results. At the time, thecompany did not say which periods might be restated or by how much.
Late Wednesday, Homestore said the investigation was continuing, andcautioned that there could be "additional material restatements" as theaudit is completed. Transactions in 2001 and 2000 are still undergoingreview, and results for 2000 may also be restated, Homestore said.
The problem, according to Homestore, is that some advertising transactionsin the first three quarters of 2001 should have been accounted for as bartertransactions, because they were related to purchases of goods and servicesfrom other companies.
Homestore shares traded at $3.60 before the December 21st trading halt, downfrom a 52-week high of $37.25 set last February. Trading was initially halted pending further news, though Nasdaq said on December 24th that theshares would not trade until the company provided more information.
Shareholders Sue
Homestore is also being sued by shareholders who bought company stockbetween July 2000 and December 2001. The investors say company officersbroke securities laws when they issued upbeat press releases regardingquarterly results, omitting disclosures about the company's true status untilafter they had sold at least $16 million worth of their own shares.
The complaint also alleges that the company engaged in "improper" transactions that led to the overstatement of revenue and assets.
Homestore's chief financial officer, Joseph Shew, resigned in early December, citing"personal reasons." In October, the company announced a restructuring that included 700 job cuts.
Losing Money
Despite its status as the most popular real estate Web site, and althoughit enjoys an alliance with the National Association of Realtors, Homestore hasstruggled to make ends meet.
In November, the company reported a third-quarter loss, saying advertising revenue had plunged. At the time, the company said it had revenue of $116.1 million for the three months ended September 30th — a 34 percent increase from a year earlier.
Homestore said it expects to complete its investigation by the end of thefirst quarter.