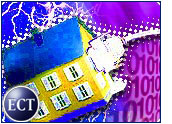 The U.S. Justice Department has closed its antitrust investigation into Homestore.com (Nasdaq: HOMS), including Homestore's acquisition of Move.com and agreements with Cendant Corporation, without taking action, Homestore said Monday.
Homestore said its acquisition of Move.com from Cendant and several related agreements have been cleared by the Justice Department, bringing to a close an investigation started more than a year ago.
"Obviously, we're extremely pleased by the department's decision to close this matter," said Stuart Wolff, chairman and chief executive officer of Westlake Village, California-based Homestore.
The main focus of the inquiry had been Homestore's purchase of real estate portal Move.com, a deal valued at US$761 million when it was announced in October 2000.
While the purchase itself was cleared and finalized earlier this year, the DOJ left the inquiry open to investigate "certain agreements between Homestore.com and Cendant."
Under the agreements, Cendant, which owns brick-and-mortar realtors such as Century 21, Coldwell Banker and ERA, took an ownership stake in Homestore.com. With the deal cleared, Homestore.com can sell subscription-based software and Internet services to Cendant's real estate holdings and, in turn, host Web sites for local agents.
Year-Long Inquiry
The Move.com deal raised antitrust concerns among regulators and the hackles of some realtors because it allegedly had the potential to give Homestore control of up to 90 percent of all online real estate listings.
In fact, the U.S. had been looking into complaints about Homestore even before the Move.com acquisition. Real estate agents lodged complaints alleging that a deal with the National Association of Realtors had the effect of monopolizing online listings.
Changing Landscape
Homestore is among the first wave of e-commerce companies to post profits. In the first quarter of this year, Homestore posted a net income of $4 million, or 4 cents per share, beating analyst expectations.
The company has predicted continued profits for the second quarter, for which it is scheduled to announce results July 25th.
Meanwhile, Homestore continues to be the dominant player in the online real estate sector. The company's sites, which include Realtor.com and HomeBuilder.com, drew 7.7 million visitors in June, according to Jupiter Media Metrix, and have led the real estate category in number of visits for 22 consecutive months.
Home, Home on the Web
In contrast, competitor site Homes.com filed for bankruptcy protection, earlier this year, although it continues to operate.
Meanwhile, auction leader eBay has taken several steps to further its presence in the Internet market for home sales, striking a deal with Homeseekers.com (Nasdaq: HMSK) to list its properties for sale on eBay.
Microsoft-backed HomeAdvisor.com is also in the market, offering home sales and rental services, as well as home and garden products for sale via e-commerce partners OurHouse, Sears, Beds.com and Martha Stewart.