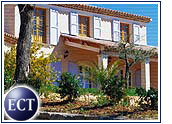 Homestore.com (Nasdaq: HOMS) jumpedUS$4.27 to $33 in morning trading Thursday, after the online real-estatecompany reported first-quarter results that topped analyst estimates.
Chairman and chief executive officer Stuart Wolff said that the "strong" resultscame in a "very difficult market."
The Westlake Village, California-based company reported pro forma income forthe quarter ended March 31st of $4 million, or 4 cents per share, beforecharges and writedowns, compared with a loss of $33.7 million, or 35 cents,in the same period last year.
The results were better than the breakeven expected byanalysts.
The company posted a net loss of$67.1 million, or 71 cents per share, compared with a year-earlier loss of $29.2 million,or 39 cents.
Pro forma revenue, which incorporates the results of recentlyacquired Move.com, rose to $118.4 million from $57.6 million. Revenue according to generally accepted accounting principles rose to $105.5million, from $38.6 million a year earlier.
In February, Homestore completed the acquisition ofMove.com, a real-estate portal, from Cendant. Lead-generation products, also purchased from Cendant, boosted subscription revenue in the quarter, Homestore said.
Subscriptions accounted for about 64 percent of pro forma revenue in thelatest quarter, while advertising generated 36 percent. Homestore said the amount of advertising revenue remained strong during the quarter, helped byrecord traffic at the company's Web sites.
About 6.7 million people visitedthe Homestore.com network during the quarter, up 87 percent from a yearearlier and 21 percent ahead of the preceding quarter.
Homestore said it expects pro forma earnings of 11 cents per share in thesecond quarter, with pro forma revenue of $500 million. For the full year,the company predicted pro forma earnings of 53 cents per share on pro formarevenue of $500 million.