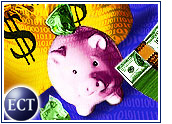 Not a day goes by without yet another report of massive high-tech layoffs and lowered financial expectations — not to mention the economic slowdown, stock prices in steep decline and the ongoing series of dot-com closures.
But underneath most radar screens, a group of e-commerce sites are getting ahead in the New Economy. These e-businesses are not only surviving the shakeout, but making money. For them, the question is not when profit will be reached, but how much.
In this special report, the E-Commerce Times takes a look at six profitable Web businesses and examines the reasons why they have avoided the pitfalls of the faltering pack.
Sharperimage.com
The success of brick-and-click firm The Sharper Image in the online space can be attributed to two keyfactors: value proposition and gross margins.
Sharper Image's product line — backed by the brand name developed at their exclusive brick-and-mortar stores — gives Web shoppers a powerful motivation to visit and buy from the Sharperimage.com site. In contrast, many Internet retailers realized too late in the game that their visitors were not buying because the products being offered online were the same products customers could easily buy just about anywhere.
"The value proposition that The Sharper Image offers is in some ways unique," Yankee Group online retail analyst Paul Ritter told the E-Commerce Times. "It offers products to consumers that are not found readily — or at all — on otheronline retailer sites."
The Sharperimage.com site has seen a significant boom in online sales. In fiscal 2000, Web sales for the company increased 111 percent to US$60.2 million, up from $28.5 million in fiscal 1999. In addition, thecompany's annual net earnings for the fiscal year increased 87 percent to$17.4 million, or $1.33 per share.
According to Ritter, Sharperimage.com is planning to improve profits by merchandising more of its own Sharper Image products, in comparison to products designed by other companies. Sharperimage.com also recently announced the opening of international online stores in Europe and the U.K.
Homestore.com
Another dot-com winner is Internet real estate giant Homestore.com, whose dominance makes it a formidable foe for any company looking to step into the Web home sales market.
Homestore.com's family of Web sites include, among others, Realtor.Com, which lists approximately 1.4 million homesfor sale, and HomeFair.com, which offers relocationservices.
Although not a typical brick-and-click operation, Homestore has leveragedits exclusive relationship with the National Association of Realtors to become the most visited real estate network on the Web. However, it is Homestore's profitability and grossmargins that really distinguish this dot-com.
Homestore.com ended its first full year as a publicly traded company with213 percent year-over-year growth in pro forma revenues, and fourth quartercash profitability of 4 cents per share. For the full year 2001, the companyexpects to generate revenues between $340 and $350 million and pro formaearnings per share between 37 and 40 cents.
How did Homestore beat the shakeout blues? The company followed a traditional business motto: if you don't want to go head-to-head with your competitors, buy them. With that principle in mind, Homestore has built its own powerhouse with a series of major acquisitions, including the recent pick-up of Move.com.
Homestore.com has also leveraged its relationship with America Online, through which Homestore.com is the exclusive U.S. provider of professional home and moving services for the giant portal.
Landsend.com
Another brick-and-click, the Internet arm of catalog apparel firm Lands' End, also deserves a nod for making money in cyberspace. According to Landsend.com, the company has been profitable since it began in 1995.
Landsend.com has been lauded by industry analysts for its leadership in the customer service arena, in particular its ability to create an excellent Web shopping experience for its consumers.
The site offers several much appreciated online features, such as an inventory alert, ordertracking services, and a "personal shopper" that helps consumers find particular products.
These goodies helped Landsend.com's Internet sales revenue grow almost 60 percent over the lastfiscal year, from $138 million to $218 million. In its lastfinancial statement, the company said it expects to see its gross profit margin to showcontinued improvement. Landsend.com also forsees an increase in diluted earnings per share of atleast 20 percent for the next fiscal year.
Click here for Part II.