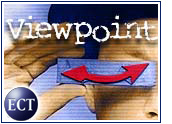 Online delivery service Kozmo.com appears to be quietly re-tooling itself, with a tip of the technological hat to the "old economy."
The company quietly, yet significantly, dropped the "dot-com" from its name recently, and announced it would mail out almost a half-million printed catalogs, complete with a good old-fashioned toll-free number to call for ordering.
Although simple and straightforward, the move to catalog and calls may be a wise one on Kozmo's part.
Why? Because in the eyes of many investors, consumers and industry observers, "dot-com" is yesterday's news.
Not So Fast
Kozmo is not alone in its subtle move toward an offline business model.
In a culture that thrives on instant gratification, the dot-com revolution filled our needs on many levels. Yet after a few roller-coaster years, even the savviest of online players have found solace in hooking their wagons to the very business models they once decried as passe.
Amazon CEO Jeff Bezos — despite his own board members' stock bailouts, the company's continual downsizing and even a recent "sell" rating — reiterated last weekend his prediction of profitability by year's end. Yet there is no denying his rumored association with Wal-Mart smacks of traditional commercial values. In fact, the possible new alliance is the only move that has caused Amazon's volatile stock to climb this year.
At press time a deal between Wal-Mart and Amazon was nowhere near complete, but Bezos supporters are reportedly urging him to make it happen.
What Amazon needs, according to some industry observers, is some real-world presence.
School of Hard Clicks
When they write the history of these early days of e-commerce, readers will no doubt be amazed that throngs of twenty-somethings truly believed American consumers would shift the bulk of their buying strategy to the Internet.
Further, investors will likely wonder what all the fuss was about when tech and e-commerce stocks dropped. After all, hadn't the same thing happened in most major industries during their formative years? One needs only to read a good history of the automobile manufacturing business to see how the market works.
Therein may lie the problem of young dot-commers whose dreams appear to be evaporating. Many of them rejected traditional business models in favor of rampant spending, overextension of debt and high-risk ventures backed by adventurous investors.Interestingly enough, some of those same entrepreneurs are now making moves to convince investors that they are somehow based in offline commerce.
Exhibit A? Kozmo.com's metamorphosis into plain old Kozmo.
Brick Allure
The prophets of e-commerce, those who make broad-sweeping predictions about the future or fate of Internet merchants, are harmoniously suggesting that survivors of the current dot-com shakeout will be those who align themselves with brick-and-mortar winners (e.g. Amazon/Wal-Mart).
Others, (like me) who subscribe to the simple, common-sense philosophy of "Why fix it when it ain't broke?" wonder why this is such big news.
If the brick-and-mortar model already works for American consumers, what made the dot-commers believe an entire new business model was wanted or needed?Worse, why did seasoned business people buy into a notion largely created by people taking their first baby steps into the business world?
Why did it take so long, for example, for investors to realize that young Shawn Fanning was blatantly breaking the law by enabling his Napster users to download copyrighted material?
Great Exaggerations
The essential lesson of the past couple of years is simply that while online commerce may have a place in the world, that place is not Nirvana.
Instead, it is a possible alternative buying method that some consumers may choose.As for efficiency and streamlining of business practices, business-to-consumer e-commerce has revealed itself to be the technological emperor with no clothes.
As it turns out, the labor costs associated with fulfillment are choking some dot-com companies, as are inordinately high salaries. And what about construction and operating costs for huge regional distribution facilities?
Although dot-coms may not necessarily be dead, they are gasping for air because of their inability to live up to early promises, and an unwillingness to grow their businesses slowly and strategically.
Calling All Gurus
As for investors, the bumpy online ride has offered a lesson most of them should have learned a long time ago — diversify your portfolios and spread the wealth. Under the high-risk column, make some educated guesses, study the market, and continue to take some chances on dot-coms. Then, wait for the inevitable market correction.
Above all, it's time to call on the collective wisdom of American business gurus who made their fortunes through careful planning, controlled growth and an eye on longevity.
What do you think? Let's talk about it.


---
Note:
The opinions expressed by our columnists are their own and do not necessarily reflect the views of the E-Commerce Times or its management.
---