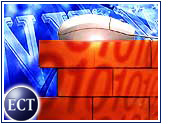 With industry analysts telling us that e-shopping is already brisk, and online holiday sales are projected to be high, it would seem e-tailing is on the upswing.
Yet, the highly respected Federated Department Stores (NYSE: FD) chose the busy holiday season to announce plans to scale back two of its most high profile Web sites, Macys.com and Bloomingdales.com.
The move brings into question the current belief of industry analysts that the true, best and correct way to a shopper's heart is through both bricks and clicks.
Marketing Missteps
As a longtime Macy's customer, and one who has shopped through Macys.com, I'd like to believe the planned reorganization of the company's Web site has more to do with errors in judgment than with the online shopping industry as a whole.
For example, Macys.com — on its homepage, in its advertising, in its promotional materials and especially in its relentless e-mail marketing campaign — went way overboard in promoting ready-to-wear fashions, which have yet to find widespread acceptance among online consumers.
Further, the extremely graphics-heavy Macys.com pages take forever to load, unless the user has a fast access line.
In short, it's not Macy's that is a problem here. It's Macy's.com. I strolled through Macy's in New York just before Thanksgiving, and it was packed with pre-holiday shoppers loaded down with purchases.
Neutralizing Bloomies
The same might be said for Bloomingdale's, a New York City mainstay that is never at a loss for shoppers.
While Federated is only going to narrow its offerings and eliminate less popular categories on Macys.com, the company is shutting down the e-commerce aspects of its Bloomingdales.com operation. From now on, Bloomingdales.com will be nothing more than an informational and marketing site for the company's brick-and-mortar department stores.
With stores in just a handful of states, mostly on the East and West Coasts, many American consumers are not even familiar with the venerable Bloomingdale's. Add to that a poor job of marketing Bloomingdales.com, and the Web site's demise is not surprising.
Still, the timing of Federated's announcement, smack dab in the middle of the holiday shopping season, is certainly curious.
Timing is Everything
Even with Federated's oddly chosen moment to make an e-tail retreat, it's no secret among e-commerce industry observers that the "click" part of brick-and-click has yet to emerge as a big moneymaker.
It makes you wonder why retailing was given decades to evolve, but e-tailing rises and falls within months.
Bloomingdale's is a company that dates to the 1860s, one that grew steadily, but not overnight. Macy's is just as old, and has expanded coast to coast in a fashion that reflects controlled growth. The famed 34th Street store in New York will celebrate its 100th birthday next year.
The lesson here is simple: Slow and steady wins the race. How that lesson is lost on such long-standing organizations such as Bloomingdale's and Macy's, as it applies to their online ventures, is a mystery.
History Lesson
Why do substantially backed brick-and-click businesses come and go so quickly? Is it that they are reaching for the wrong stars?
Instead of a quest for market dominance and quick profits, perhaps these organizations would serve themselves and their consumers better by taking a page from their own histories.
That page would likely read something like this: Start small, offer a quality product at an affordable price with personalized, caring service, and grow incrementally in keeping with consumer demand.
Slow and Go
This is not to say that today's economy offers the same luxury of time for a business to evolve. But commercial longevity still relies on controlled growth.
The brick-and-click formula? The conventional wisdom that smiles on this business model may just be right, but only if traditional retailers find a way to slow down, wait out a tough economy and court their online audience.
What do you think? Let's talk about it.
---
Note:
The opinions expressed by our columnists are their own and do not necessarily reflect the views of the E-Commerce Times or its management.
---