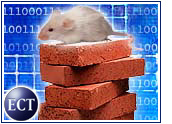 By only looking at top-line metrics such as sales and profits, 69 percent of brick-and-click retailers are underestimating the benefits derived from their Web sites, according to a report released Monday by Jupiter Media Metrix.
The report concluded that brick-and-click retailers who factor in non-transactional benefits, such as online-influenced sales and improved payroll productivity, will find that the return on investment (ROI) of their Web sites is 65 percent higher than if they only consider online sales.
"Brick-and-mortar retailers should not blindly follow the lead of their pure-play competitors by adopting a laser-like focus on the profitability of their Web sites," Jupiter Media Metrix senior analyst Ken Cassar said.
"A typical brick-and-mortar retailer's Web site can yield financial benefits well beyond the transactions it generates," Cassar added. "Jupiter estimates that nearly two thirds of the total Web benefit for retailers will be in offline transactions influenced by online research."
Channel Plus
In the report, "Profits Are for Pure Plays: Prudent Online Investment Strategies for Brick-and-Mortar Retailers," Jupiter said that only Internet pure plays should focus primarily on recognizing profits from their Web sites. Brick-and-click retailers should work to maximize their sites' potential to both build online sales and drive informed customers into their stores.
Although 45 percent of consumers have used a retailer's Web site to research a product before purchasing it in the same company's store, most brick-and-click retailers are ignoring the non-transactional value of their sites and are tracking metrics that treat their sites merely as selling channels, according to Jupiter.
Into the Store
In a Jupiter Executive Survey, 46 percent of executives reported that sale figures are the primary metric they use to measure the success of their Web sites. According to the survey, 23 percent of executives reported that they use profits as the key metric.
"Brick-and-mortar retailers cannot ignore the impact that their Web sites have on store purchasing because it is difficult to quantify," Cassar said. "The retailer that spends its limited Web resources shoring up the transactional elements of its site, at the expense of the elements that would send a customer with purchase intent into its stores, may ultimately lose offline market share to smart competitors."
Getting on Track
Although integrating online and offline systems is inevitable for brick-and-click retailers who want to use their sites to drive shoppers to their real-world outlets, Jupiter said that many retailers should "delay aggressive integration efforts until after their in-store systems have been brought up-to-date with software that was built to Web-based standards — something that will happen in due course for nearly all large retailers."
A Jupiter Executive Survey found that 31 percent of retailers currently provide visibility of store inventory on their Web sites and another 23 percent expect to offer this capability within the next two years.