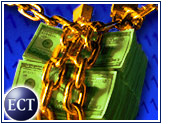 Internet message boards have been humming with speculation over the past few days that online currency company Flooz.com is going out of business.
As of Friday, Flooz itself had left no clear signal of its status and has made itself unavailable for response to any inquiry.
The company took its Web site offline Wednesday and posted a message reading: "We are currently unable to process your transaction. Check back for further updates. We apologize for this inconvenience."
Adding fuel to the speculation that Flooz has gone under without notifying shoppers is the fact that sites around the Web — including Ashford.com, Barnesandnoble.com, Outpost.com and Tower Records — have stopped accepting Flooz as a payment method.
Alerting Shops, Not Shoppers
"They notified us Wednesday that they were suspending all transactions and we took it down," Ashford.com spokesperson Kim Richard told the E-Commerce Times.
"We have taken Flooz off our site," Barnesandnoble.com spokesperson Carolyn Brown told the E-Commerce Times. "They are having problems and it's in the best interest of our customers to take it down. I'm not exactly sure what kind of problems."
Flooz, which was endorsed by actor/comedian Whoopi Goldberg, allowed consumers to purchase Flooz currency for themselves or gifts and use it like money at sites that accepted Flooz. Some sites, such as American Greetings, also offered Flooz as rewards for frequent buyers.
No Response
Calls to Flooz' toll-free number by the E-Commerce Times were greeted with a message that the number was invalid, and Flooz responded to an e-mail request for information with an auto-response reply suggesting the use of the site's "Live Chat" feature to chat with a customer service representative.
However, the "Live Chat" feature, along with the rest of the Flooz site, was still disabled as of Friday morning.
"We sincerely apologize for the inconvenience you may have experienced with Flooz," the company told customers who e-mailed the company Thursday requesting more information. "Please note that, since we are presently updating our site, you will not be able to access our website. We suggest that you visit our website www.flooz.com later for further updates."
Worthless Currency?
Customers trying to use Flooz at sites around the Web have repeatedly been told that Flooz is no longer an acceptable form of currency. One message poster at MyCoupons.com wrote that she was told that Outpost.com was no longer accepting Flooz "because Flooz wouldn't pay them."
Other would-be Flooz users who contacted e-tailers to ask why Flooz was no longer being accepted were told variously that the company was going out of business or had been sold.
One poster who had attempted to pay for an order at Dick's Sporting Goods was told, "We have been unable to successfully contact Flooz.com over the past 24 hours due to technical/corporate difficulties on the Flooz Web site. Unfortunately, we cannot fulfill your order due to these circumstances."
Grasping for Answers
When the E-Commerce Times called the Tower Records customer service line, a representative said that Flooz was no longer an option because "I believe they are going out of business."
However, signs of hope came from ProFlowers. A MyCoupons poster who contacted ProFlowers was told, "Flooz is currently merging with another company and has suspended any transactions for this time. We have not been informed when this service will again be available."
Funds Frozen
MyCoupons.com posters with Flooz left in their accounts expressed outrage at Flooz' business tactics.
"What a lousy way to do things," one poster wrote. "No warning, no chance to spend any of it."
Said another: "Who knows. I'm so upset. I called them when I heard the rumors last month and they flat out told me it wasn't true, I could put my trust in their company, and Flooz was going to be around for a very long time."
Other posters seem to have seen the writing on the wall.
"Flooz has been on its deathbed for quite some time and I, for one, have made sure to not keep a dime in my account for fear this would happen," a poster wrote. "Maybe they are merging, maybe they are gone, maybe it's a system problem, but to 'shut down' in this fashion for any reason is unacceptable to those who had balances and have purchases to make."