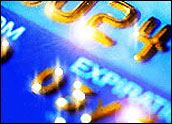 Alternative payment methods, such as prepaid value cards and Web currency, are being used online, but according to analysts and merchants alike, they'll never dethrone the king of the dot-com world: the credit card.
Yankee Group analyst Christine Loeber told the E-Commerce Times that alternative payment methods are "not gathering much steam."
The primary reason that credit cards are still dominant is that people are more familiar with their use, Loeber said. Moreover, the analyst said, shoppers are more likely to believe that a Web merchant who accepts major credit cards is trustworthy.
One of the most common alternative payment methods is a debit from the personal checking account of the online shopper. However, Loeber said the use of such debits is not popular with consumers because it requires them to turn over too much personal information to a site that may not be a trusted brand.
Another drawback is that even though the consumer has only approved one amount to be debited from their checking account for a single transaction, it is too easy for merchants to make additional withdrawals without authorization.
In addition, consumers do not enjoy — or do not believe they enjoy — the same protection against unauthorized transactions with checking account debits as with credit cards.
Check Please?
For e-shoppers who do not want to use a credit card or a checking debit, there's always the old-fashioned option of mailing in a regular check, a payment form accepted by many Web merchants. However, that choice is not made by many online shoppers.
Even though Internet bellwether Amazon.com will accept checks, the company says most of its shoppers still opt for plastic.
Amazon spokesperson Patty Smith told the E-Commerce Times that "Most people just assume that at an online site you have to pay with a credit card."
Payment by traditional paper check is not without its drawbacks, Smith said. For example, most Amazon orders paid by check are delayed by two to three weeks — a lifetime by the standards of most e-shoppers.
Catch-22
The more exotic types of alternative Web payment methods have also not caught on, according to Loeber, because the companies that design Web-only payment methods need the support of both consumers and merchants.
Often, according to Loeber, consumers are reluctant to adopt a new Web payment method if it is not widely accepted online — and merchants are reluctant to set up alternative systems until consumers are comfortable using it.
A case in point is the Web currency company Beenz, which recently cut back its operations. The digital currency provider said in December that it was laying off 25 employees from its New York City and San Francisco, California offices and closing other offices.
Teen Corner
Prepaid Web shopping cards are one alternative form of payment that is gaining popularity, at least among younger shoppers.
Loeber said that prepaid cards, including Visa Buxx, American Express CobaltCard and the Mastercard-affiliated Webcertificate, have become "pretty hot with the teen market."
In addition, adults who want the convenience of a credit card, but are concerned about using their personal credit card online, are also using the prepaid cards for Web shopping.
The drawback to using prepaid cards, however, is that in order to fund the cards, shoppers (or their parents) still need to have a credit card and have to turn over personal information to at least one online merchant.
Avoiding the Trap
To avoid the trap of requiring a credit card for alternative payments online, the American Express CobaltCard can be funded online via a checking account. Additionally, American Express and 7-Eleven have developed a co-branded online shopping card, which can be purchased with either cash or a credit card at any 7-Eleven store in the United States.
Despite initial success for the card, Kathy Schockey, senior director of American Express's Stored Value Group, told the E-Commerce Times that American Express believes it is "a little early" to talk about expanding the prepaid card program to the international market.
Still, the card has the "capability to go international," Schockey said.
International Convenience
Even though many countries are behind the U.S. in the race for e-commerce dollars, those countries are often ahead in the development and acceptance of alternative payment methods. This is particularly true in Asia and South America, where credit card penetration is low.
In Japan, for example, 7-Eleven Japan expanded its e-commerce offerings with the launch of a Web site called 7dream.com last summer. According to the company, 7dream.com shoppers can browse through more than 100,000 items, including music, flowers and photo supplies, place their orders online, then go to their local 7-Eleven stores to pay for and collect their purchases.
Other Japanese e-commerce ventures have established a system that allows consumers to purchase items over the Internet and make payments in cash at convenience stores. BOL Japan, the Japanese Internet arm of Bertelsmann AG, offers that option to its Web bookstore shoppers, and also transacts credit card sales on its site.
What's Next
Although alternative payment methods will continue to be developed, the demise of the credit card is "not imminent," according to Loeber.
"That's not to say there's not a lot of opportunity out there for alternative payment methods," she added.
Research bears out that view. According to a report issued last year by ActivMedia, "Real Numbers Behind E-Transactions, Fraud & Security," credit cards, which now account for 98.5 percent of all online transactions, will decline to a 90 percent share this year as new payment technologies emerge.
In addition, the research firm forecasted that smart cards and e-wallet transaction volumes will grow from $500 million in 2000 to $5.7 billion this year, and to $20 billion in 2002.
Loeber pointed out that many of the alternative payment methods currently in use, especially stored value cards, actually leverage credit card technology and show that the credit card companies "don't want to give up market share without a fight."