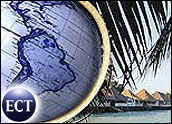 Companies in Latin America expect the percentage of total revenue generated by the Internet to be nearly three times as much in 2001 as it was in 2000, according to an IDC report released Thursday.
The 1,300 Latin American companies surveyed for IDC's eWorld survey told the Framingham, Massachusetts-based research company that they expect revenue from Internet sales to increase from 1.6 percent of total sales in 2000 to 4.5 percent in 2001.
The survey also found that companies in the region expect to increase the portion of their information technology (IT) budgets spent on Internet initiatives from 16.2 percent last year to 20.9 percent in 2001.
The biggest spending sector will be the manufacturing sector, which plans to spend nearly 25 percent of its IT budget on Internet initiatives this year, IDC said.
IDC stressed that the survey "asked companies what revenue they felt they could attribute to the Internet, which is very different from actual e-commerce revenue."
Mexico in Front
Propelled by the presence of multinational companies, Mexico is a leader when it comes both Internet-related revenue and IT spending.
Internet-related revenue for Mexican companies is expected to leap from 3.6 percent in 2000 to 10.5 percent in 2001. Spending on Internet initiatives is also expected to grow from 17.4 percent of the IT budget in 2000 to 27.1 percent in 2001, the survey said.
According to IDC, the Mexican banking and manufacturing sectors, as well as the transportation, telecommunications and utilities categories, all expect to attribute 12 percent or more of their revenue to the Internet in 2001.
In a separate report released earlier this year, eMarketer predicted that e-commerce in Mexico would grow from $55 million in 2000 to $13.3 billion in 2004.
Brazilian Gains
Brazil's manufacturing sector has high hopes for Internet-related revenue in 2001. Brazilian manufacturers expect their Internet-related revenue to jump from 1.9 percent of sales in 2000 to 6.2 percent in 2001.
Across all sectors, Brazilian businesses expect Internet-related revenue to jump from 2.4 percent of sales in 2000 to 5.6 percent in 2001.
Columbian banks and manufacturers also have high expectations. Banks in Columbia expect to see Internet-related revenue grow from less than 1 percent in 2000 to 7.8 percent in 2001, while Colombian manufacturers expect to see Internet sales grow from 1.1 percent to 6.5 percent of all sales, according to the report.