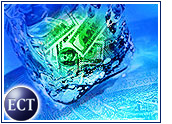 Ending weeks of speculation, online currency site Flooz.comclosed for good over the weekend and announced it would file for bankruptcy.
In a message posted on its site, Flooz blamed the shutdown on "dramatic changes in capital markets and the general slowdown in the economy."
On August 8th, Flooz abruptly suspended operations and notified the approximately 30 e-tailers that accepted Flooz that it would no longer be processing transactions.
Flooz, which was endorsed by actor-comedian Whoopi Goldberg, allowed consumers to purchase the Web currency for themselves and use it like money at sites that accepted it. Some sites, such as American Greetings, offered Flooz as a loyalty reward for frequent buyers.
Desperately Seeking
After going on hiatus, Flooz began a desperate and ultimately unsuccessful search for a merger partner.
Flooz.com chief executive officer Robert Levitan told the E-Commerce Times on August 14th that the company had been discussing the possibility of a merger with several companies with the ultimate goal being to "create a stronger entity to operate in this challenging environment."
"There are many companies that value the transaction platform that we have created," Levitan said at the time.
No Secound Wind
Although Flooz expressed hope that it would find a partner willing to breath new life into the troubled online company, industry experts expressed doubt. Forrester analyst James Crawford told the E-Commerce Times that he could not think of any company that would be interested in merging with Flooz.com, particularly after it abruptly suspended its operations.
In the end, the Web currency firm was forced to admit defeat.
"Flooz.com had been in merger discussions with a number of companies but was unable to find a suitable partner," the company tells visitors to its site.
Fraud Victim
Even though Flooz cited the dot-com downturn as the cause of its demise, there are indications that the online currency company was actually the victim of fraud.
Citing a person close to the company, the New York Times reported in its online edition Monday that the company unknowingly sold about US$300,000 worth of Flooz to a ring of credit-card thieves operating out of Russia and the Philippines, before being alerted by the U.S. Federal Bureau of Investigation (FBI).
Flooz's credit-card processing company, which it declined to identify, reportedly notified Flooz of the fraud after Flooz charges showed up on the monthly statements of people whose credit cards had been stolen.
Freeze Frame
According to the New York Times, the credit-card processor started withholding reimbursements to Flooz and froze the company's accounts. By the second week of August, the credit-card processor was reportedly holding $1 million worth of Flooz's funds.
Despite the processor's stranglehold on its cash, customers were still spending thousands of dollars of Flooz a day, putting the company into a difficult financial situation.
Although the credit-card processor at issue is not known, in February 2000, online Visa card provider NextCard announced an exclusive arrangement with Flooz.
Consumer Losses
As is often the case when dot-coms go belly up, Flooz's customers were left in limbo. At MyCoupons, posters filled message boards with tales of Flooz lost.
"I am going to cry," one poster wrote. "I lost about $350.00. $200.00 of this was NOT prize money; it was MY hard earned real money! I am so sick right now. I was saving this money for Christmas presents. How can they do this to people? I have a good mind to write to Whoopi Goldberg and tell her the only reason I bought Flooz was because she was the spokesperson. I can't believe they can just steal our money like this."
Although some consumers may be able to get a refund from their credit card companies, others will have to file a claim against the company in bankruptcy court and hope to recoup at least a portion of their losses.