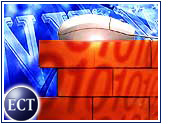 Setting up an e-tail outlet is a natural progression for small offline retailers, according to experts, but in order to succeed, retailers need to plan, plan, plan.
For starters, Gartner research director David Schehr told the E-Commerce Times, retailers need to carefully evaluate whether they are establishing a Web site to better serve old customers or reach new customers.
"The first is more achievable," Schehr said, adding that succeeding online is "more a marketing issue than a tech issue."
What follows is a primer for small businesses wishing to go from brick to brick-and-click.
1) Select Inventory
Once the decision to go online has been made, small retailers need to decide which products to offer at their virtual branch. Michele Pelino, director of Internet market strategies at the Yankee Group, told the E-Commerce Times that retailers need not put their entire inventory online.
Pelino suggested that retailers pick items which are easy to display online and which consumers are comfortable buying online. Items that sell well online, according to both Pelino and independent business consultant Jeffrey Moses, include electronics, computers, books and supply-type items.
Moses stressed that products sold online should be items that are easily shipped and not easily damaged.
"Anything that can be handled by a direct-mail [catalog] is a natural to move onto the Internet," Moses told the E-Commerce Times.
2) Join the Big Boys …
Small retailers moving online have an advantage over companies who took to the Web several years ago. Internet behemoths such as Yahoo! (Nasdaq: YHOO), Amazon.com (Nasdaq: AMZN), and eBay (Nasdaq: EBAY) have all established shopping malls on their sites that make it easier for small retailers to begin selling online.
One advantage of joining an online shopping mall, according to Pelino, is the "huge number of eyeballs" such sites attract.
Moses agreed that setting up shop at one of the Internet giants could be a good way for consumers to get their feet wet in e-commerce, because such sites offer secure ordering and a ready-made site.
3) … But Beware
However, not everyone believes that hooking up with an established retailer is the best way to go. Schehr said that for most small retailers that are focused on serving their current customers better, "a standalone site is more effective" than selling through Yahoo!, Amazon or eBay.
For example, retailers who do choose to ally with an Internet giant might find themselves in direct competition with hundreds of other sellers, who could be offering the same merchandise at a lower price.
Sellers who choose to list through Amazon, Yahoo!, or eBay also have to pay a monthly listing fee, ranging from US$9.95 a month at eBay to upwards of $300 a month at Yahoo!. Amazon and eBay also collect a percentage of the final sale price, and eBay charges a fee of 5 cents for each item listed.
One small retailer that decided to go it alone is Four Winds Soapworks of Round Lake Beach, Illinois. Company co-owner Annette Luethy told the E-Commerce Times that she and her husband decided to develop their own site because "we didn't want to be limited by Amazon or Yahoo!."
4) Choose Your Builder
When it comes to designing and building a site, tech-savvy merchants may choose to do it themselves. But for most retailers, it makes more sense to hire an outside firm to develop and host the site.
"For the tech aspects, it's probably easier to have someone help out than to do it alone," Schehr said.
The Four Winds Soapworks creators decided to go solo, and have found that developing a working e-commerce site is not easy. Descriptions of their bath and body products are currently online, but they are still working on developing their shopping basket. Also, they recently learned that they will need to find a new host for their site.
"Getting the shopping cart running has been the biggest struggle," Luethy said. "Also, our host has decided to stop hosting, so we need to find another vendor."
Regardless of whether a company chooses to hire a Web developer or design its own site, it is vital that it carefully plans the site's layout, content and security features. In Part 2 of this how-to guide, the E-Commerce Times provides tips for those particular elements — and more.