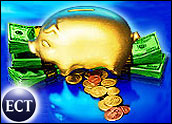 Some eBay (Nasdaq: EBAY) users, questioning both the auction giant's motives and requirements for a charity auction benefiting victims of last week's terrorist attacks on the United States, are accusing the company of building its corporate image at their expense.
"How dare eBay ask we small sellers to bankroll their generous contribution to the National tragedy," one eBay user said in a message posted at AuctionWatch. "I will do it my own way, thanks so very much eBay! And the kicker — we as sellers just pony up the shipping and insurance."
eBay spokesperson Kevin Pursglove told the E-Commerce Times that "when you are a company the size of eBay and in the media eye, there are always people who will question your motives."
Launched earlier this week with the support and praise of New York Governor George Pataki, eBay's Auction for America aims to raise US$100 million in 100 days. Sellers who choose to participate in the charity auction donate their merchandise and agree to pay the cost of shipping. eBay is waiving all transaction and listing fees, and the major credit card companies have agreed to waive their fees as well.
As of Wednesday morning, 71 percent of eBay's users said they do not plan on participating in the Auction for America because they have donated in other ways, according to a poll on the Web giant's site.
Unfair Competition
One of the biggest complaints that eBay users have about the Auction for America is that the wave of patriotism sweeping the country will cause buyers to choose to buy Auction for America items instead of other items listed for sale at the site.
"As I see it, my auctions that I depend on to feed my family will not be looked at," AuctionWatch poster Tree 411 wrote. "The (charity auction) box even has an American Flag. It is a lot of pressure being put on both the buyer and seller to purchase only for those sellers in the program. A program like this would be good but not if it eliminates all the eBay auctions we as sellers offer."
Some eBay users also believe buyers will choose to bid on Auction for America items because eBay is requiring all sellers, instead of buyers, to pay for shipping.
Shipping Dilemma
"There are many sellers that depend on their income through eBay to support them and put food on the table," Dawna34 wrote at AuctionWatch. "What I am seeing is that if a charity auction has a widget selling for $20.00, and a regular auction has the same widget for $20.00 plus $5.00 shipping, why would a buyer bid on the regular auction when they can get the charity widget for $5.00 cheaper … and they can feel good about buying the widget because the amount went to charity."
Pursglove said that eBay "worked all weekend on a way around that" but couldn't find one.
"We wanted to make sure every single penny went to charity," Pursglove said.
Building Billpoint
Users are also complaining because eBay has said that the only acceptable payment form for Auction for America items is Billpoint. Some view the charity auctions as a mere ruse to gain users for Billpoint.
"This just seems like a way to get more users to join Billpoint by making them feel bad if they can't participate," Alanuk wrote at AuctionWatch. "There are more ways to make donations and I for one will not be joining Billpoint just so I can do this."
According to eBay's announcement board, payments must be processed through Billpoint because a special version of Billpoint is being used to "ensure all funds go to the charity and to give the seller a charitable donation receipt."
Going On Their Own
Some eBay users who took the initiative to run their own auctions and donate the proceeds to charity also complained that eBay cancelled their auctions without explanation.
Pursglove said that some independent charity auctions may have been cancelled because the sellers mentioned the World Trade Center in their headline, causing the auction giant to believe the items were in violation of eBay's temporary ban of listing World Trade Center memorabilia.
However, Pursglove said that if the descriptions, and not the headlines, say that proceeds will be donated, eBay will allow the independent auctions to stand.
"There are those who would like to contribute in other ways and we respect that," Pursglove said, adding that participation in Auction for America was strictly voluntary.
In eBay's Defense
Other eBay users applauded the company for donating $1 million of its own money and for giving them an easy way to contribute to the relief efforts.
An AuctionWatch poster named Thedeway chose to auction off handicrafts through Auction for America. The poster wrote that the auctions had already resulted in $300 being donated through his auctions.
"I could not have afforded to donate $300 out of my own pocket," Thedeway wrote. "So even though I don't always approve of the things eBay does, and I'm no means a 'cheerleader,' I am glad to be able to do this in order to help those who are in need. And that's what counts, right?"