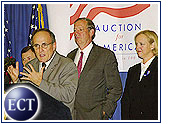 eBay (Nasdaq: EBAY) said Monday it has set up a charity auction to benefit the families of victims of last week's terrorist attacks on the United States and challenged its massive community to raise US$100 million in 100 days.
eBay said it will waive all fees for listings and sales made through the Auction for America. That move will allow all money raised to be donated to the September 11th Fund, which was established by the United Way and the New York Community Trust to accept donations.
Several credit card companies, including Visa USA, MasterCard International and Discover, have agreed to waive fees as well, eBay said. Sellers will receive a charitable donation receipt.
Seed Money
"This is something we have to do," said eBay president and chief executive officer Meg Whitman. "The people affected by the horrible attacks in New York and Washington need our help."
eBay itself gave $1 million to the fund. AOL Time Warner (NYSE: AOL) has also agreed to provide free marketing support and unspecified products for the auction effort. Cash donations can also be made to the fund.
The auction project was announced Monday in New York City. New York Governor George Pataki said eBay's plan will "help send our message to the world that New Yorkers will not be intimidated and we will come back stronger and better than ever."
Pataki added: "eBay has stepped up in an unprecedented way."
Strong Start
By early Tuesday, several thousand items were already listed on the special auction pages, including nearly 300 listings in the computer category and more than 400 in the antiques section.
Many items, such as a rookie baseball card for Seattle Mariners' star Ichiro Suzuki, had drawn dozens of bids already.
Reaching Out
In the hours and days after the worst terrorist attacks in U.S. history, a host of technology firms moved quickly to raise money for victims.
Last week, Amazon.com (Nasdaq: AMZN) quickly set up a Red Cross donations link on its site and has raised an average of nearly $1 million a day since. Yahoo! (Nasdaq: YHOO) also said it would provide Web support and donation links for major disaster relief organizations.
Initially, however, eBay found itself fending off attempts by sellers to personally capitalize on the tragedy. Hours after the attacks, eBay banned all items related to the World Trade Center and the Pentagon until October 1st.
That move drew the ire of some sellers, some of whom continued to list those items in violation of the policy.