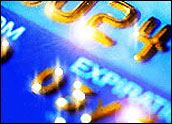 According to a report released Wednesday by research and consulting firm Ovum, the alternative online payment market will reach $126 billion (US$) by 2005.
The Ovum study follows a report issued last month by ActivMedia Research predicting that credit cards, which now account for 98.5 percent of all online transactions, will decline to a 90 percent share by 2001 as new payment technologies emerge.
Going, Going, Gone?
Ovum's report, "Second Generation E-payments: E-business Beyond the Credit Card," said a new breed of electronic payments will offer easier and more flexible ways to pay for goods and services purchased online.
These new e-payment methods are "capable of displacing cards from e-commerce entirely," according to Boston, Massachusetts-based Ovum.
"Credit cards are necessary for e-commerce, but not sufficient," Ovum principal analyst Duncan Brown said. "Today's payment cards are suited to only a subset of potential e-commerce participants and there is a pent-up demand for new e-payment methods."
Beyond the Desktop
One major drawback to credit cards is that they are impractical for making micropayments for small purchases, such as music downloads, because the transaction fee is often more than the purchase price of the item.
Also, e-tailers who rely solely on credit cards as a payment method often lose out on business because some would-be shoppers are ineligible for credit cards or unwilling to use them online. A report issued in June by PricewaterhouseCoopers found that teen shoppers were willing to shop online, but were often unable to because their parents would not let them borrow a credit card.
A dearth of credit cards is also a barrier to e-commerce in some emerging markets. A report released last month by Cheskin Research and Chinadotcom Corporation found that only 30 percent of the 2,771 mainland Chinese who responded to their survey said they had a credit card.
Ovum also found that the emergence of mobile devices and alternative access devices is "moving the domain of e-commerce beyond the desktop and creating the need for alternative means of payment."
Alternative Payment Methods
Ovum expects five e-payment methods to be popular in the coming years. These options include metered payments, which allow e-commerce transactions to be billed to existing accounts, including telephone bills, utility bills or even Internet service provider (ISP) accounts.
A second method, optimized card payments — which often still rely upon traditional credit cards to fund purchases — nonetheless offer enhancements to make purchases more secure and user friendly.
Examples of optimized card payments include Internet wallets or virtual cards that hold identification and payment information, so that users do not have to enter payment and delivery information multiple times.
Another example is the new American Express Private Payment system. Consumers using Private Payment are given a disposable credit card number that is unique to each transaction.
More Options
Also expected to take hold are e-cheques, which let consumers transfer money directly from their existing checking account to a seller's account.
A fourth method, e-cash, allows consumers to set up a bank account to fund online purchases. Although e-cash is good for micropayments and carries no transaction fee, it has yet to catch on in the U.S. because it requires a consumer to set up an account and constantly replenish the account.
Finally, alternative currencies, such as Beenz, Flooz and Rocket Cash, allow consumers to prepay for currency and use it around the Web.
As emerging methods and technologies for conducting e-commerce emerge, Ovum predicts that payment service providers (PSPs) will emerge to serve as intermediaries between buyers and sellers. These PSPs will act as brokers of e-payments and will assume the responsibility for ensuring funds are properly transferred.
Banks Lose Out
The big losers in the coming e-payment revolution could be banks, which will find themselves cut out of the online payment market unless they adapt.
Ovum said that the new market could be dominated by PSPs, including telephone and utility companies, who are able to develop full service offerings, including brokerage, optimization, aggregation, internationalization and billing services.
"Banks will need to take history and experience into the new market and embrace the idea of the PSP," Brown said. "If not, they run the risk of complacency, and by not establishing themselves in this emerging market, victims of their own egos."