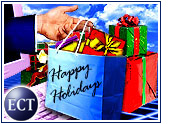 With global tensions and economic insecurity shadowing what is typically a season of generosity and cheer, the retail industry had reason to fear that this year's holiday shoppers would shy away from offline retailers, online retailers — or both.
However, e-commerce's difficult shift from a pure-play focus to a multichannel strategy appears to be paying off in 2001, by giving customers the tailored holiday shopping options they desire.
"The emergence of multichannel retailing's importance to e-commerce began in earnest during the 2000 holiday season and its importance in 2001 has only increased, partly in response to the events of September 11," Yankee Group program manager of e-commerce strategies Paul Ritter told the E-Commerce Times.
"Online consumers are seeking out the trusted names of the established retailers that have been around for a long time and that have proven themselves capable of selling and delivering products via their online channels," Ritter said.
Bonding with Snail Mail
Greeting card mainstay Hallmark reports that one of its most popular online services at the moment is geared toward helping e-shoppers send out paper greeting cards by regular U.S. mail.
Hallmark spokesperson Kathi Mishek told the E-Commerce Times that even though the company offers cards that can be sent by e-mail, use of its online paper-card sending service is rising. Users pick from several sizes and designs, pay for the cards along with a postage and handling fee, and designate to whom they want the cards sent.
Convenience is apparently a priority, Mishek said, as customers look to reach large numbers of friends and relatives who are not Web-connected or prefer receiving their greetings the old-fashioned way.
"We're beyond what we expected we would get for the past twomonths in terms of activity," Mishek said.
Changing Times
Hallmark is symbolic of the changing face of e-commerce in other ways as well. The company has made its Web site a hub through which users can access other gift e-tailers — Web merchants that Hallmark either has a partnership arrangement with, or an equity stake in.
For example, Hallmark has an e-mail gift certificate program, through which users can send an e-card accompanied by a gift certificate for one of 300 merchants offering various products and services.
Hallmark is also affiliated with companies delivering personalized and perishable items that would not be practical to carry in a company's retail stores, such as flowers and gourmet foods.
The Comfort Factor
Many analysts say that the mulitchannel emphasis, as well as an increased comfort level among Internet users who are becoming Web shoppers, will help many e-tailers exceed pre-holiday projections.
Steve Telleen, vice president of the Web Site ScoreCard service at Giga Information Group, noted that the U.S. saw a big bump in the number of people signing up for Internet service during the final months of 2000, and many of those new users turned into Web shoppers this year.
"Clearly online sales appear to be up," Telleen told the E-Commerce Times. "There are more people online, and they are more comfortable about buying on the Web."
Something for Everyone
Telleen pointed to industry figures indicating that the Yahoo! (Nasdaq: YHOO) shopping site experienced a 75 precent rise in traffic during this year's four-day Thanksgiving weekend over the same period last year. Brick-and-click stores like Kmart (NYSE: KM), Wal-Mart (NYSE: WMT) and Target (NYSE: TGT) saw smaller but significant rises in online traffic for that weekend.
Telleen said he did not buy into pre-holiday theories that fears related to recent events, including anthrax mail scares and concerns about security in crowded places, would affect holiday shoppers in most parts of the country. However, he did say that he key to multichannel offerings is that they give choices to those who are concerned about those issues.
While those who prefer to skip the malls are buying online, Telleen noted that the Web is also helping to drive traffic to physical stores by giving needed information — on products, store locations and business hours — to those who prefer shopping the traditional way.