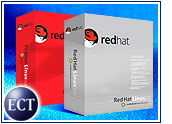 Like Apple Computer, Linux vendor Red Hat Software is playing the role of challenger as it tries to convert longtime users of a competing brand to its own products.
But according to officials at North Carolina-based Red Hat, the similarity between the two companies' missions ends there. Red Hat product services director Marty Wesley told the E-Commerce Times that the Linux vendor's primary battlefield is the enterprise server market, not the desktop. And its principal foe is not Microsoft's Windows, but rather the Unix operating systems used by a considerable number of enterprises. Those Unix systems include Sun's Solaris, HP's HP-UX, IBM's AIX and SGI's Irix, among others.
Red Hat contends that its products allow companies to certify and use its software for years without engaging in constant updates or costly purchases and upgrades of proprietary software.
Migration Campaign on Track
The company said its switch campaign — more accurately termed a migration campaign — is steadily garnering backing from a number of big-name hardware and software providers, including IBM, Dell, Intel, AMD and Oracle.
Red Hat also has landed new end customers at a steady rate. In fact, it now holds 52 percent of the market for Linux operating systems, according to research firm IDC.
"The campaign has actually proceeded better than we expected," Wesley said. "I think that's especially noteworthy given the condition of the market, the economy and the slowdown in IT spending."
Specifically, Wesley explained, Red Hat recently has scored significant gains in the retail industry and is actively courting customers in the financial services, federal government and telecom sectors.
Battle Advantages
Giga Information Group analyst Stacey Quandt said that Red Hat has an advantage that Apple does not possess — other than that its main enemy is not Microsoft. In short, Red Hat's product is based on an open source foundation.