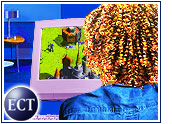 Purveyors of interactive online games have hit upon an audience-pleasing business model, featuring methods like subscription plans that give users unlimited access for a monthly fee. But gamers are an avid and demanding clientele, and industry experts say firms in other areas of e-commerce will be hard-pressed to emulate gaming companies' success using the same tactics.
"People will pay for 'all-you-can-eat' as long as you can promise them a nonstop stream of compelling content," GartnerG2 research director PJ McNealy told the E-Commerce Times. "Right now, most entertainment companies can't deliver on that."
So far, McNealy said, PC-based role-playing games appear to be gaining the most traction. For a monthly fee, usually between US$10 and $15, such sites as Sony Online Entertainment and Electronic Arts (EA) Online let gamers take on numerous challengers in far-flung locations.
Pay To Play
McNealy noted that Sony's Everquest game is the latest example of this business model working well. Tens of thousands of users pay a regular subscription fee of about $12.95 to play.
Games also are helping to draw advertising money to sites, partially offsetting the dramatic decline in banner ad revenue that has hit the rest of e-commerce. Experts point to the rising profile of advertiser-sponsored games at sites like Wild Tangent and Microsoft's MSN Gaming Zone.
Wild Tangent, for example, offers online demos from traditional game publishers as well as full-length interactive games backed by companies like Fox Sports and the TNT cable TV network.
McNealy said such sites are increasing in popularity and have become important forums not only for game makers, but also for nongaming companies that want to reach target audiences. "For example, Toyota had a six-week race game on one site to promote their trucks," he noted.
Tough To Copy
He added that gaming sites' success has forced major online players to take notice. Now, companies like Yahoo! and AOL are setting up subscription-based models for selling content.
Most entertainment-oriented sites, however, have had mixed success with the subscription model. According to McNealy, movie sellers are limited in their ability to provide a constant stream of new content, while music companies have more content to offer but have yet to find the right pricing strategy.
Other e-commerce sectors seeking to replicate gaming's winning formula face considerable challenges. Experts noted that the online gaming audience has a number of things going for it that other sectors envy, including a high proportion of users with fast Internet access.
Broadband Crowd
According to IDC senior analyst Schelley Olhava, online gamers were among the earliest adopters of broadband, and they are open to shelling out more for certain offerings, which can be a boon for gaming sites.
"The gaming community tends to want the highest level of performance, and they are willing to pay extra for a better experience," Olhava told the E-Commerce Times.
Therefore, while other commerce sectors struggle in the current climate, the future of online gaming looks comparatively bright.
More Growth Ahead
IDC has projected that the number of households with access to online gaming will rise to 40 million by 2004, up from 25 million in 2000. The firm expects U.S. revenue from online gaming to rise from about $200 million in 2000 to $1.8 billion in 2005.
Specifically, the ranks of online gamers will be boosted as console players migrate to the Internet. Microsoft earlier this year introduced online offerings tied to its Xbox player, and Sony has similar plans for its PlayStation 2 console.
According to IDC, further growth is expected as more games become available for use on mobile wireless devices and through services like interactive television.