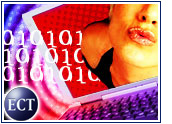 For all the financial reeling and corporate belt-tightening in many e-commerce sectors, experts say no tears need be shed for the online porn industry. While exact revenue figures are tough to unearth, established players have not been significantly hurt by current economic woes, though competition in the space has intensified.
Indeed, IDC research editor Malcolm Maclachlan noted that industries like online adult entertainment tend to do well in difficult times as people seek escape from their troubles.
"I'd say the good news for this industry would be that it's one of those rareindustries that might be considered recession-proof, sort of like the liquorindustry," Maclachlan told the E-Commerce Times.
Even as people cancel health club memberships and curtail trips to movie theaters and nice restaurants, he said, entertainment accessed from home is likely to become more popular.
"After all, there are a lot of people out there with computers and DSL lines that are already paid for — and they have a lot of free time because they areunemployed," he added.
Tough To Track
The bad news for the online porn industry, according to Maclachlan, is that most people are paying little or nothing for the product. Even in good economic times, the industry was suffering from a glut of sites peddling their wares. "There is just too much of it available for free," he said.
He noted that although IDC does not track spending in this area, the revenue pie is undoubtedly split in many different ways.
Most other research firms similarly stay clear of the subject. Spokespersons for Forrester, Gartner and Aberdeen Group told the E-Commerce Times that their firms do not cover the adult entertainment business, and otherwise declined to comment.
When adult content was last tracked by Forrester, in 1998, researchers estimated that annual revenue reaped by such sites totaled US$800 million per year, adding that the industry was on track to surpass $1 billion by 2000.
Still a Glut
Academic studies of online porn spending are also hard to locate, in part because of the secretive nature of many porn businesses. Nirmal Pal, director of the eBusiness Research Center at Penn State University, said that although the center does not track the industry, signs are everywhere that the glut of sites has not yet abated.
"You get bombarded with spam from these people, but you really have no way of knowing which are the new players and which are established companies going by different names," Pal told the E-Commerce Times.
Web traffic figures do not reveal who is spending or how much, but they do show that economic turmoil has done little to thwart interest in adult sites. According to Nielsen//NetRatings, sites in that category had 28.3 million unique visitors in July 2002.
Nielsen spokesperson Maria Bumatay told the E-Commerce Times that the July figure is at least 5 percent higher than it was a year ago. In addition, she said, monthly visitor tallies for the most part have hovered in the same range over the past year.
Economy No Obstacle
While declining to disclose traffic and revenue figures, adult site operators said the economy has not hurt their businesses.
For example, Cynthia Kwasny, senior vice president of marketing at North Carolina-based Adult Entertainment Broadcast Network, said online business dropped off in the two weeks immediately following last September's terrorist attacks, but has since rebounded to high levels.
Kwasny said the site, which lets visitors watch adult videos online for a fee, has nonetheless had to adjust to a growing field of players since setting up shop in 2000. The company keeps specialized personnel on staff whose primary job is to implement changes based on the latest streaming video technology.
"You have to keep up with the technology to stay competitive," Kwasny told the E-Commerce Times. "There are so many adult video sites out there."
No Free Ride
Experts noted that even as the industry as a whole rakes in dollars, it also must deal with legal limitations because of its taboo nature, while law enforcement and consumer groups monitor such issues as children's exposure to offensive online materials.
Penn State's Pal said porn sites cannot expect to achieve success in all markets. In places like Singapore, for example, individual access to adult Web sites is tightly restricted by the government.
In addition to these issues, porn sites also must face the same economic and technological pressures that impact all online businesses competing in crowded spaces.
"I suppose you could claim that the downturn has affected the spread of very high-speed connections, which would make it harder for high-end sites to sell [adult] videofeeds," said IDC's Maclachlan.
"I'd say what it really boils down to is that people trying to make money in this industry have problems — but the economic downturn isn't really one of them," he added.