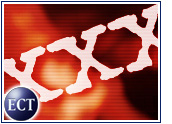 Sex sells. Online or off, that hasn't changed. But is adult content still the biggest moneymaker on the Web?
Finding solid answers is difficult. Most major market research firms do not track traffic to or sales at pornography sites. And many adult sites are controlled by holding companies that make a point of being hard to find.
But it seems clear that as e-commerce hits new milestones — such as Amazon's first US$1 billion sales quarter — Internet pornography no longer sits alone atop the heap of most-likely-to-succeed online business models.
"The idea that this was a bottomless gold mine for any given company was probably never true, though it's hard to know for sure," Nirmal Pal, director of the eBusiness Research Center at Penn State University, told the E-Commerce Times.
"Now, it's becoming a mature industry with very low barriers to entry. It's not like building an e-commerce business from the ground up with suppliers and infrastructure. So you get a lot of competition."
Red Light District
Certainly, no one claims that demand for online porn is waning. But as free and pay sites alike proliferate, price wars break out just as they do in other areas of e-commerce. The result is the same struggle for easy profits.
"People are making money, but in the bigger picture of overall e-commerce, it's probably getting smaller as time goes on," Pal said.
Offline, pornography is estimated to be a US$8 billion industry in the United States alone. If just a fraction of those sales take place online, the potential for riches is great.
No Guarantees
But sexy pictures alone do not make a business plan unsinkable. Just ask the people who used to work for Playboy.com.
Last fall, the company slashed half of its workforce, citing plunging ad and subscription revenue. Playboy.com also has embraced alternative revenue sources. For example, the site is eyeing online gambling.
Playboy.com suffered in part because of the overall online advertising slump. But the company also may have suffered from a reluctance on the part of many well-heeled advertisers to get too close to anything that could be considered pornographic.
Hands Off
Advertisers' hands-off approach probably also led to Yahoo's (Nasdaq: YHOO) decision to end its fling with pornography last year. Yahoo! admitted last April that it maintained an adult movie storefront on its network, only to end the affair as soon as the media got wind of it.
While Yahoo! cited the concerns of its "community" as a factor in its decision, analysts at the time said they believed the decision was made mainly to avoid alienating key advertisers.
Who's Counting?
Although hard numbers are difficult to come by, the battle over the Sex.com domain name shed some light on the porn industry's income levels. A judge declared the domain was worth $65 million after a cybersquatter admitted he made $40 million in profits on the site over a five-year period.
And though most market research firms have given up on tracking pornography and what it means to the online economy, Forrester Research contends that Web surfers who seek out online pornography are an important audience for e-commerce and content sites. Those surfers, Forrester said in a recent report, spend more time and money online than others.
Forrester last estimated the size of the adult content business in 1998, when it pegged the industry at $800 million per year and said it was on track to surpass $1 billion by 2000.
Enter at Own Risk
Despite an undeniably crowded field, newcomers stand ready to enter the Web pornography game. The Web site of the Adult Chamber of Commerce features a classified section where more than a dozen entrepreneurs seek investments for their porn startups.
One such startup, Los Angeles-based iVolt Networks, will launch next week in an effort to fulfill what CEO Greg Salsburg said is an unsatisfied need.
"We won't look like a porn site," Salsburg told the E-Commerce Times. "We just happen to have nudity, but that's not what we're about."
Salsburg said iVolt will be a lifestyle destination for men and will avoid the pitfalls that trip up other sites by mixing e-commerce, advertising and subscription revenue.
"There are hundreds and thousands of sites out there, but if you really look at it, most of them are controlled by the same 60 companies," Salsburg said. "People don't want sites that give them pop-up ads and make them feel dirty for looking at them."