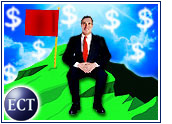 As consumers seek relief from bleak news about war and the economy, experts say entertainment could spawn the next wave of lucrative niche opportunities on the Web.
Yankee Group program manager Paul Ritter told the E-Commerce Times that Hollywood could prove to be a blockbuster. According to Ritter, online purchases of movies and videos will ramp up significantly over the next several years.
As an example, Ritter pointed to Movielink, a company that soon will launch a new service that lets consumers receive on-demand, feature-length movies over the Internet.
Exclusive Movie Deals
Ritter said Movielink has a key advantage because it has formed joint ventures with several studios, including MGM, Universal, Warner Brothers, Paramount and Sony.
"Few competitors in this space are likely to emerge with the studio partners that Movielink has established," Ritter said.
But one factor that will keep this market at a niche level — in contrast to more mainstream markets driven by movie theaters themselves — is that its business model is tied closely to growth of consumer broadband penetration.
Broadband has gained speed more slowly than most observers expected, although the Yankee Group has forecast that it will reach 30 percent of U.S. households in the next few years. That could signal greater profitability in the on-demand movie niche of the future.
File Sharing Soars
Music entertainment is another key niche that analysts predict will flourish in coming years. The Yankee Group recently predicted that free file-sharing systems like Kazaa and Morpheus will enjoy high popularity over the next few years as legitimate, for-pay music services struggle to gain ground.
The Yankee Group reported that consumers downloaded more than 5 billion audio files from unlicensed file-sharing services in 2001. According to the research firm, the annual total from both free and licensed sites could rise to 7.5 billion as legitimate services take hold.
Gartner vice president Karen Peterson told the E-Commerce Times that the rise of file-sharing services can be traced to the fact that they take advantage of two effective online business models: the ability to deal well with digitized content and the ability to cultivate a shared sense of community.
Beyond the Glamour
But effective niche-building extends far beyond movies and music. According to GartnerG2 vice president Van Baker, revenue can be reaped online by those who can successfully attract hobbyists, collectors and others with very specialized interests.
To bring together hobbyists and collectors, companies must figure out what makes them want to participate in an online community. Auction site eBay has done so with resounding success. While eBay draws big online crowds and caters to numerous interests, Baker said there is still room for niche players to target specific interests with a great deal of expertise that a large company like eBay simply cannot offer.
Baker added that hobbyists in all areas — from stamp collecting to flower arranging — are looking for sites that provide healthy combinations of salesmanship and practical advice.
Recession-Proof Interests
"Even when the economy turns bad, people don't give up their favorite hobbies," Baker told the E-Commerce Times.
Because hobbyist sites have a built-in audience, well-done ones do not have to reinvent the wheel or rely on gimmicky services or promotions.
"There is a need for sites that let people do what they already enjoy doing," Baker said. "Those are the sites that get rewarded."