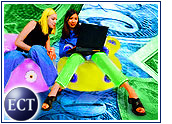 Kids and teenagers made up nearly 20 percent of the overall online population in the month of July, highlighting the group's growing importance for Internet commerce and marketing, according to a report from Nielsen//NetRatings.
The research firm said that about 20 million of the 100 million people who went online in July were younger than 17. That age group spent an average of nine hours on the Web during the month and initiated 16 online sessions each.
"The lack of a credit card may hinder immediate participation in e-commerce by kids and teens," said T.S. Kelly, director and principal analyst at NetRatings, "but their sheer size represents a unique opportunity for marketers to relay their branding messages and develop loyalty among future online buyers."
Savvy and Chatty
While they make up only one-fifth of the online population, young people account for nearly one-quarter of all instant messaging traffic. In July, 11.5 million teens and children used a messaging application, according to Nielsen//NetRatings.
"Young surfers are generally more technologically savvy as compared to other age groups," Kelly said, adding that for that reason, young people often choose instant messaging over e-mail.
In fact, the ability to send instant messages or chat online drives much of the teen traffic, with nine of the top 15 sites for that age group, including ColorYourProfyle.com and IMaddict.com, featuring chat tools.
Where They Go
Unlocking the teen market has proven difficult for e-commerce in the past. Several online malls designed to replicate the social gathering places of the brick-and-mortar worldhave come and gone.
The most common hurdle cited is a lack of credit cards and other non-cash payment methods among young people, although they have been offered a host of alternatives. And the debate about targeting teen consumers also has become an obstacle.
More recently, the rise of multichannel shopping has offered an opportunity for retailers to use the Web to increase brand awareness and drive traffic to brick-and-mortar stores, because few teens complete purchases online.
GartnerG2 research director David Schehr told the E-Commerce Times that although the teen market will probably never pay massive dividends, it still makes sense as a marketing target.
"There's probably more long-term benefit than immediate payoff at the cash register, either online or offline," Schehr said. "For brand-building, that's more of a natural fit."
Adult Themes
The report found a stable environment elsewhere on the Web, with big-name players continuing to dominate NetRatings' list of companies responsible for the most Internet traffic.
NetRatings ranked Microsoft first with an audience of 83 milllion in July, followed by AOL Time Warner with 80 million, Yahoo! with 76 million and Terra Lycos with 33 million. Amazon.com ranked fifth with an audience of 32 million.
Amazon also ranked as the top online advertiser in July, with about 3.1 billion ad impressions generated. Runner-ups included Classmates.com, eDiets.com, USA Interactive and Columbia House.
Dell, AOL Time Warner and Sabre, the parent of Travelocity and other travel properties, also appeared on the advertising top 10 list.