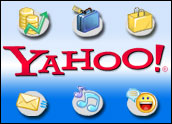 Seeking to reassure investors, many of whom are still stinging from the decision to walk away from a deal with Microsoft, Yahoo is laying out its case for partnering with Google instead of taking billions from the software maker.
In a letter to shareholders, CEO Jerry Yang and Chairman Roy Bostock argue that the Google partnership "strikes the right strategic balance" and gives the portal more flexibility than Microsoft's proposal to acquire Yahoo's search business.
"One of our key strategies for achieving these objectives is to capitalize on the increasing convergence of search and display advertising, where we are especially well-positioned to compete and succeed," they wrote. "We have already accelerated our efforts to strengthen our presence in display through a variety of initiatives and acquisitions in recent months. Our new commercial agreement with Google enhances our ability to pursue this strategy."
The letter also urges owners of Yahoo stock to back the existing board of directors over the slate put forward by Carl Icahn. Yahoo shareholders will meet on Aug. 1, though many are expected to vote before then by proxy.
Yahoo shares, which experienced a roller-coaster ride Tuesday and Wednesday after word spread that the portal and Microsoft were again in discussions — reports that were later downplayed by both companies — were off 2 percent in early trading action to US$21.57.
Microsoft Musings
The letter reveals more details of the proposal Microsoft made to Yahoo in lieu of an all-out acquisition, which Yahoo's board repeatedly rejected over the past three months.
After that original deal was withdrawn, Yahoo said, Microsoft offered to buy Yahoo's search business for $1 billion plus an ongoing cut of the future search advertising revenue. Microsoft also would have invested another $8 billion into the portal, but would have gained significant control over the company for 10 years.
The deal would have "made us dependent on Microsoft for all of our search business," Yang and Bostock wrote. "It would also have given Microsoft veto rights on certain future Yahoo actions, including a sale of Yahoo. Our board of directors and management made a great effort — and conducted in-depth negotiations — to elicit a feasible proposal from Microsoft that made strategic and financial sense for Yahoo, but without success."
Pros vs. Cons
By contrast, they said, the Google deal leaves Yahoo free to serve its own ads when it makes more economic sense and to forge other third-party partnerships because it is nonexclusive. It also leaves Yahoo free to sell to a third party. Yahoo will gain between $250 million and $450 million in additional cash flow in the first year of the Google deal, the portal said.
"Based on all the key factors — strengthening our competitiveness, protecting our strategic position, generating attractive financial returns — the Google agreement is far better than Microsoft's search-only hybrid proposal. That's why we moved forward with it," they said.
The arguments are familiar ones, but likely ones Yahoo will need to repeatedly articulate ahead of the shareholder vote, since many investors still feel the portal is leaving billions on the table by walking away from the Microsoft offer, said Forrester Research analyst Shar VanBoskirk.
"Yahoo has to describe a vision that lets investors see how it can get to where it would have been, for shareholders, if it had sold," VanBoskirk told the E-Commerce Times. "The Google deal is a big part of that, and saying no to Microsoft is as well, but it's about the future of the company now."
Standing in the Way
For its part, Microsoft will likely lobby behind the scenes for a strict Department of Justice review of the Google-Yahoo partnership, pointing out that it will combine the two largest search market shares into a single giant that will dwarf all other players in the space.
Yahoo's letter did not address antitrust concerns raised by the Google agreement, though executives have said in the past they feel there is no reason for regulators to block or modify the deal.
"Microsoft also fought the approval of the DoubleClick purchase," David Lisi, a partner with Howrey, told the E-Commerce Times. "Regulators blessed that deal over their objections, so it's unclear how much weight their opinions carry, for obvious reasons."
In addition to touting the Google deal over Microsoft, Bostock and Yang also used their letter to argue against Icahn's plan to replace the Yahoo board, suggesting that the existing board not only knows Yahoo better but also has articulated a real plan for enhancing shareholder value going forward.
"Simply put, you can choose to vote for a slate of nominees with no articulated plan for the future of Yahoo — and who now have essentially no alternative agenda to offer you — or you can choose to vote for your existing board of directors, which has the independence, experience, knowledge and commitment to navigate the company through the rapidly changing Internet environment, execute on our strategic objectives and deliver value for Yahoo and its stockholders," they wrote.