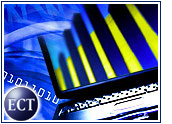 Online shoppers' thoughts are turning to spring andsummer vacation plans, and they are using the Web toturn those thoughts into reality. According toInternet measurement firm Nielsen//NetRatings, traffic totravel Web sites grew 12 percent to 51.2 millionvisitors in March, up from 45.9 million in February.
NetRatings reported that about 43 percent of all Websurfers visited a travel site in March either at workor at home, compared with 39 percent in February.
Patrick Thomas, senior Internet analystat NetRatings, said that even a fee increase — such as theUS$10 Travelocity began charging users who booked UnitedAirlines flights on its site in order to compensatefor canceled airline commissions — did not stoponline shoppers from booking and researching trips online.
"Thus far we haven't seen a huge flock of peoplebypassing travel sites to go to airline sites,"NetRatings analyst Lisa Strand told the E-CommerceTimes, adding that online consumers seem to see valuein both airline and third-party sites. Of the top 10travel Web properties in March, according to NetRatings, sevenwere third-party sites and three were airline sites.
Expedia Tops List
According to NetRatings, Expedia was the most popular travel site, with its number of unique visitors increasing 18 percent to11.6 million in March. Travelocity took the number two spot with 10.2 million unique visitors, up 24 percent over February.
Airline-owned Orbitz took third place, followed bySouthwest Airlines, Trip Networks' Cheap Tickets,American Airlines, Yahoo! Travel, DeltaAir Lines, Priceline andAOL Travel.
Most Improved
Cheap Tickets saw the biggest surge in customer useduring the month, with unique visitors reaching 4.4million, up 51 percent over February's visitor count.
Yahoo! Travel's March traffic — just under 4.2 million– was 33 percent higher than its February numbers. American, Southwest, Priceline, Orbitz and Delta alsosaw double-digit gains.
Hot Deals
To capitalize on summer travel planning, some sitesare offering special fares and packages for spring andsummer travel. In fact, travel sites increasingly have focused on offering travel products like cruises and vacation packages because those sales aremore lucrative than airline ticket sales.
Travelocity, for instance, purchased Site59.com, apopular site for finding last-minute travel deals, inan effort to lessen its dependence on commissions.
The company paid $43 million for the site, which willallow it to better control its margins because the siteitself, not the travel supplier, sets the priceconsumers will pay.
More Time Online
NetRatings also found that Web users went online morefrequently in March. The average number of sessionseither at home or at work was 36, up from 33 inFebruary.
More people went online in March — 120 million, upfrom 118.8 million in February — and those who wentonline spent more time connected as well.
According to NetRatings, the average user spent 19 hours and 50minutes online in March, up from 18 hours and 44 minutes inFebruary.