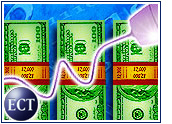 In an effort to improve the quality of onlineinformation and strengthen consumers' faith in theWeb, Consumers Union — the consumer advocacy group thatpublishes Consumer Reports magazine — has moved itssystem of objective ratings to the Web. The group's new siteis called Consumer WebWatch.
"As consumers settle into the realities of a worldwhere the Internet has changed many aspects of howthey live their lives, they are starting to questionmore and more how much they should trust Web content,"said Beau Brendler, director of Consumer WebWatch.
The site earlier commissioned a survey of 1,500 adult Webusers. Just 29 percent of respondents said they trust Websites that sell products or services.
Set of Guidelines
The new site has established a set of guidelines on anumber of points, including whether a site is up-frontabout transaction fees, business partnerships andsponsorship; who owns the site and where it islocated; how well a site explains its privacy policy;whether advertising is clearly labeled as such and iskept separate from editorial content; and how the site usespersonal data provided by customers.
The guidelines also include things like whether a site isdiligent about correcting wrong or misleadinginformation and whether it uses cookies or othertracking devices.
Rated on Compliance
The group said it plans to develop specific guidelinesfor various online sectors, including travel, health,financial, search engines, portals and children'ssites.
After it has come up with a complete set ofguidelines, it will begin rating Web sites based on their compliance.
Consumer WebWatch also will provide news and researchon how consumers use the Web and will encourage adoption of best practices by Web sites.
The Big Question
The consumer group's task seems herculean, however, and a question remains: How effective will it be?
"It's hard to tell what exact value the ratings system will have for consumersat this point," Forrester Research analyst ChistopherKelley told the E-Commerce Times.
According to Kelley, Web credibilityis still a problem — almost half of online consumersstill do not make purchases over the Internet because of issues like credit card security and privacy. But Web site ratings are not a new idea, and previous attempts to establish such a system have not caught on.
In addition, consumers already can take a number of stepsto protect themselves by using ad-blocking software, privacy software and one-time-use credit card numbers.
"These are allspecific solutions that help consumers get over theironline hurdles, yet most people don't use them," Kelley said.
That said, more information cannot hurt. "The more information that is out there to help consumers make more informed choices, the better," Kelley said.