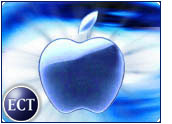 Adding credence to a growing belief that the technology market is slowly regaining its balance, Apple Computer reported on Wednesday a significant profit and a rise in revenue.
Customers demanding Apple's revamped desktop iMac helped push the computer maker's second-quarter profits to US$40 million, nearly equal to the profit recorded in the first quarter.
Apple had expected customer demand would drive it to a positive showing in the second quarter, ended March 30th. The company shipped 813,000 Macs during the quarter, an 8 percent increase over the number of units shipped in last year's second quarter.
New iMacs Key
Company CEO Steve Jobs said 220,000 of those units were new flat-screen iMacs. Portable products and the transition to OS X also helped the company's momentum, while Power Mac sales remained flat.
Revenue rose 4 percent from the year-ago second quarter, reaching $1.5 billion. Apple attributed 45 percent of its revenue in the quarter to international sales. The company said its gross margins also rose from 26.9 percent to 27.4 percent.
That is a fairly strong showing for Apple, which spurred consumer interest in personal computing in the mid-1980s with its innovative, easy-to-use technology, then fell behind Windows-based PC giants like IBM.
"Apple's balance sheet remains strong," company chief financial officer Fred Anderson said.
Good for Apple
Roger Kay, director of client computing at IDC, said the positive results "mean more for Apple than for the technology industry. It looks like they met the high end of their numbers."
Kay also said that Apple's gross margin percentage is enviable. "Some PC OEMs are getting half of that. Apple is charging a premium for high style, and that's a good business model. The key issue is that they ended with a backlog and high demand, and that bodes well for the rest of the year."
Perhaps more important than anything else, however, is Apple's new operating system, OS X.
Said Kay: "End users can choose the Mac because they like the interface and there are no [adverse] consequences in the corporate setting."
Against the Tide
Anderson pointed out that Apple made its gains in a quarter that usually reflects the ill effects of seasonal decline.
"Revenues and units were both up, contrary to normal seasonal decline," he noted.
In addition, the company has ramped up investment in research and development, boosted tech acquisitions and expanded its commitment to retail while industry competitors have back-pedaled.
For instance, Apple has opened 29 retail outlets domestically and plans to open 20 more stores during this calendar year.
Anderson said the company also is the second phase of expanding its retail program with CompUSA, which places Apple representatives in the popular chain's outlets.
Gross Margin Squeeze
The weak economy continues to have a dampening effect on Apple's financials, according to Anderson. He said he expects gross margins will slip, partly because of higher component costs, particularly for flat panels, and air freight shipping costs.
Anderson added that Apple executives "remain optimistic" that the company will do well in the future. Although he expects third-quarter revenue will be flat to up sequentially and gross margins will be sequentially lower, those margins should "improve in the September quarter."