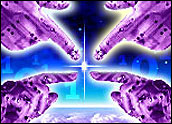 "Where there's a will, there's a way" could be the tagline of messaging provider Critical Path, which in just two years dumped its management team, shed its considerable debt, extracted itself from extraneous business pursuits, rid itself of shareholder lawsuits, brokered a lucrative financing deal and began to forge partnerships with successful and reputable companies, such as Hewlett-Packard.
Other than the chief technology officer and the engineering staff, "every executive is new," Critical Path chairman and CEO William E. McGlashan, Jr. told the E-Commerce Times. Indeed, since McGlashan joined the company in the spring of 2001, Critical Path has been laying groundwork for a two-pronged turnaround, tackling financial issues as well as streamlining its technological offerings.
Shedding Debt, Costs
The company quickly dispensed with US$300 million in debt. "We bought it back in the market with our cash," McGlashan said, noting that the move was considered controversial at the time but has paid off.
Critical Path also "cleaned up costs," reducing its cost structure from $56 million to $26 million and closing roughly two-thirds of its 77 offices. The company decided to focus on core businesses, such as hosted e-mail, selling e-mail servers and directory services. Its offerings now include CP Presentation Server, CP Messaging Server, CP Access Server and CP Calendar Server. In November, Critical Path plans to "turn our technology into a single platform," McGlashan said.
Successful Turnaround
Gartner research director Maurene Caplan Grey told the E-Commerce Times that the company prevailed and in the last year has successfully turned itself around. "Last year we had a very different impression," she noted, saying Critical Path's determination to emerge viable in a difficult economy has left a lasting impression — as have the company's recent partnerships with the likes of Hewlett-Packard.
According to McGlashan, the HP partnership will add ballast to Critical Path's offerings on the hosted business side. "It was important to have a partner with 24×7 support" and a global presence, he explained. "HP is the third largest service company in the world." HP's 12 million mailboxes, combinedwith Critical Path's 15 million, comprise an impressive user base.
Grey called the HP deal "a very smart move" on Critical Path's part. "It brings credibility to Critical Path to be associated with HP, and it allows both [companies] to expand their services."
'Very Smart Move'
In addition, McGlashan claimed, Critical Path will be able to offer 99.9 percent uptime commitments. "No one else in the world can touch us, but we need to stay ahead of our competitors," he said.
He explained that the company is hoping its partnerships will move it onto a higher plain and help it get out the word to carriers and enterprises that Critical Path is an attractive provider for businesses of all sizes.
The company has made progress of late, proving to be a viable competitor against Sun Microsystems and Oracle by snaring customers like Wal-Mart, DuPont and Procter & Gamble.
Still, those efforts are somewhat clouded by the past. But while Grey said overcoming that past remains Critical Path's "biggest challenge," she noted that concerns about the company among Gartner clients have dwindled significantly.
Relishing the Challenge
Even with its renewed reputation, Critical Path still faces a tough market that has seen ASP (application service provider) competitors, such as ComTouch and EasyLink, disappear or abandon the e-mail arena. The economy has not exactly encouraged spending by potential customers.
IDC wireless analyst Keith Waryas agreed, telling the E-Commerce Times that the messaging market is "tough." He noted that rather than upgrading to new technologies, companies are spending limited IT budgets on must-have enhancements to security and capacity. While he believes this situation is temporary, it does not make for easy gains. What will make the difference,he said, is how companies compete. "A lot of it will come down to sales force."
McGlashan seems to relish that type of challenge. "It is almost luxurious to us to have the same concerns that other people worry about," he said.