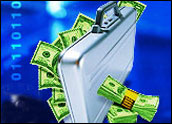 The U.S. Security and Exchange Commission's investigation of fraud at e-mail services firm Critical Path has yielded charges against three former company executives for participating in a plan to fraudulently bolster financials in 2000. Two of the accused have agreed to settle the case.
The SEC has set its sights on Jonathan A. Beck, former regional vice president of sales at Critical Path; Kevin P. Clark, formerly a regional vice president of sales at the company; and William Rinehart, who at one time headed the North America and Latin America sales forces for Critical Path.
Beck and Clark also have been hit with criminal charges by the U.S. Attorney General's Office for the Northern District of California.
Executives Behaving Badly
According to the SEC charges, in 2000 and early 2001, Rinehart instructed his sales force to set up some transactions. Revenue from those transactions was subsequently recorded improperly as US$6.3 million in the fourth quarter of 2000. The commission noted that two of the transactions "were fictitious."
In addition, Rinehart, through side letters, allowed another customer to terminate a transaction with the company. In a signed letter to the company's auditors in 2001, he also said all company sales were legitimate, according to the SEC.
Beck is in the SEC's spotlight because he reportedly was involved in one of the transactions, which amounted to $2.125 million of improperly recorded revenue. And Clark allegedly was involved in fraudulent transactions that totaled $2.15 million in improperly recorded revenue.
Previous Wrongdoing Not Found
The SEC has been hot on the trail of the three former executives since April 2001, when the company in February 2001 restated financial results for the third and fourth quarters of 2000 as well as for the entire fiscal year. At the time, its fourth-quarter 2000 results already had been revised once.
However, according to Marcie Powers, a Critical Path spokesperson, "The SEC concluded its investigation into the company with no finds."
Payback Time
In early 2002, the SEC instituted cease-and-desist proceedings against Critical Path, which were later settled. The commission also filed a civil injunction against David A. Thatcher, the e-mail company's former president, and Timothy Ganley, the former vice president of sales. Thatcher has already pleaded guilty to securities fraud, and Ganley has admitted to engaging in insider trading.
In the newest round of charges, the SEC said Beck and Clark allegedly — and illegally — sold 27,348 and 16,325 shares of Critical Path stock, respectively, based on inside information of the fraud and with knowledge of the true state of the company's financials. Sales of the shares allegedly helped Beck and Clark sidestep losses of $586,368 and $343,140, respectively.
Without admitting guilt, both Rinehart and Clark told the SEC that they will settle the charges. Rinehart agreed to pay $110,000 in civil penalties, and he has been barred from being an officer or director of a public company for the next five years. Clark will pay $378,912.
'Paper Tiger'?
Yankee Group analyst Mike Goodman told the E-Commerce Times that it is long past time "to separate the business from the personal." He also called the SEC a "paper tiger" whose investigative operation "has no teeth."
But in recent weeks, the commission has taken a more aggressive stance toward wayward executives, leveling charges, imposing fines and airing corporations' dirty laundry in public.
Although many of the SEC's actions are what Goodman calls "feel good" efforts, they do show an attempt to curb scandal before it can do more harm to the economy.
Lost Its Shine
Critical Path's stock price has fallen from an all-time high of about $150.25 to less than a dollar. In an attempt to regain some of its former glory, the company began revamping its management team in Spring 2001, laying off 450 workers, including then-president Diana Whitehead and Mari Tangredi, who was executive vice president of business development, sales and professional services.
Although Critical Path stock was trading at just 86 cents per share on the Nasdaq this week, the company continues to add services to its portfolio. In April, it launched a mobile messaging platform, followed by the July announcement of an instant messaging application for wireless carriers and service providers.