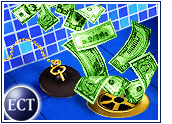 As though bankruptcy and $3.8 billion in "overstated earnings" were not bad enough, WorldCom has found that another $3.3 billion was improperly reported between 1999 and the first quarter of 2002.
The discovery of the additional missing $3.3 billion comes on the heels of a rough period for WorldCom. The company has been under pressure from both the SEC and Congress, as well as from its own shareholders, to explain how it sank to such financial lows and to account for the nearly $4 billion it had misplaced as it shuffled its books.
"Unfortunately, these announcements are no longer a surprise," Rod Woodward, telecommunications services analyst at Frost & Sullivan, told the E-Commerce Times. "And, once again, it appears to be a blatant attempt to artificially pump their earnings."
Two Plus Two Equals?
Former CFO Scott Sullivan was fired as a result of the alleged wrongdoings.
The company also has found itself at the center of inquiries by two congressional committees. In July, a group of 25 banks sued the troubled telecom company, claiming that WorldCom received $2.5 billion in loans under fraudulent terms, while contending that it was financially healthy.
WorldCom agreed in U.S. district court to freeze its assets for 80 days if the banks pursuing the debt would refrain from legal proceedings for 70 days.
The company subsequently filed for bankruptcy after its stock slipped to an appalling 6 cents per share. And Sullivan was subsequently arrested by federal authorities, along with the company's former controller, David Myers.
Guilt By Association
WorldCom's woes have cast a pall over the rest of the telecom industry, which is already limping as a result of tough economic times.
After WorldCom announced that it had misplaced nearly $4 billion, Qwest Communications shares dropped more than 50 percent. At the time, Qwest called the fraud allegations "unfortunate" and tried to distance itself from the fray.
However, that company has not been able to entirely avoid the harsh glare of the SEC's spotlight, as its own accounting has been called into question.
And AT&T Wireless has said that because WorldCom ended a reseller agreement, it has fallen short of its goal by more than 100,000 subscribers. WorldCom, which sold AT&T Wireless service under the WorldCom brand, exited the wireless business earlier this year.
Future Plans
As it announced the latest $3.3 billion misstep in its financials, WorldCom said it would continue with its internal financial investigation. The company has retained KPMG LLP to serve as its independent auditor.
"Once you start down that road, no one knows what you will find," Lisa Pierce, an analyst at Giga Information Group, told the E-Commerce Times. "The big question is, how does a restatement that far back affect them today? No one has the answer to that."
WorldCom warned that more discrepancies might come to light as the accountants audit its 2000, 2001 and 2002 financials. The company also said it planned to write off additional assets beyond those it has already reported.
Pierce believes that when this kind of discovery keeps evolving, it indicates that "this was a pretty tightly held thing," executed by a few people. For WorldCom to comb through its books, "it is like digging their own grave," she said. "But they have to do it to move forward."
Confidence Factor
"As for investor confidence, I think we have already become desensitized to WorldCom revelations, as we have with ImClone, Enron and other companies," said Frost & Sullivan's Woodward.
"However, if more and more irregularities are exposed at other telecom companies, it will only dampen investor confidence in this industry even more."
Woodward pointed out that individual and institutional investors "will continue to stay away until the industry has come clean, which might not happen for another couple of years."