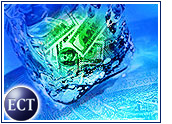 Following WorldCom's disclosure of what appears to have been the largest financial misstatement in history — nearly US$4 billion — the company on Tuesday fired chief financial officer Scott Sullivan and announced its intention to redo its financial statements for the past five quarters.
During an internal audit of the company's capital-expenditure accounting, WorldCom found that certain transfers from line expense accounts to capital accounts during the past five quarters were not made in accordance with generally accepted accounting principles (GAAP). The misstatements amounted to $3.055 billion in 2001 and $797 million in the first quarter of 2002.
Investors Hit Hard
The news hit investors hard Tuesday as WorldCom took a beating on the Nasdaq, falling below the requisite $1-per-share requirement for continued listing. Just a few years ago, WorldCom was trading above $60. Earlier today, the company's shares plunged to 9 cents before trading was halted.
"It's another nail in the coffin as far as investor confidence is concerned," Ken McGee, Gartner group vice president and research fellow, told the E-Commerce Times, "which is why I don't believe that the company will recover from where it is now — and where is it now?
"Its stock is pennies away from being offered for free," McGee said. "For that reason, I think it will be punished by bankruptcy, which is certain, and the breakup of the company, which is inevitable."
Global Tech Ripple
With Enron, Global Crossing and Tyco International all having made major financial blunders recently, the tech industry did not need another such revelation to shake investor confidence.
GartnerG2 research analyst Laura Behrens told the E-Commerce Times that "many folks have already discounted the impact of WorldCom because the company was in such trouble.
"On the other hand, the magnitude of what was revealed yesterday was certainly surprising, and [with] an error of that size, [it] is hard to believe that it was a mistake," Behrens added.
"So now we have [a crisis] not just in telecom, not just in communications, not just in media, but another huge crisis of confidence in how business gets done generally in our country," she said. "I think the effects will be felt far outside the telecom sector."
Industry Impact
Giga Information Group research fellow Lisa Pierce agreed, telling the E-Commerce Times that the news almost certainly will depress the tech industry. "We're talking about the second largest long-distance carrier in the United States and the world's largest ISP," Pierce said.
And Cory Jackson, fixed income research analyst at US Bancorp Piper Jaffray, told the E-Commerce Times, "In general, this type of development erodes tech and telecom companies' abilities to raise capital in the … markets.
"In technology and especially telecommunications, by nature there aren't as many good metrics to follow, so you have to depend on management in a lot of cases to present the financials in a way you hope you'll be able to understand them," Jackson added.
New Audit
The heart of the issue is that the company booked operating expenses — such as routine network maintenance — as capital investments, allowing it not only to hide expenses but also to inflate cash flow and post artificial profits.
Upon discovering the impropriety, WorldCom notified its external auditor, KPMG, and asked KPMG to undertake a comprehensive audit of the company's financial statements for 2001 and 2002. WorldCom also notified Andersen LLP, which audited the company's financial statements for 2001 and reviewed statements for the first quarter of 2002.
Andersen advised WorldCom that in light of the inappropriate transfers of line costs, Andersen's audit report on the company's financial statements could not be relied upon.
WorldCom will now issue unaudited financial statements for 2001 and the first quarter of 2002.
Dazed and Confused
In addition to terminating Scott Sullivan as chief financial officer and secretary, WorldCom also accepted the resignation of senior vice president and controller David Myers.
The company likely hopes the restatement of operating results for 2001 and 2002 will not affect its cash position, customers or services. But in light of other recent tech scandals, the effect on both the company and the industry could be devastating.
"Our senior management team is shocked by these discoveries," WorldCom CEO John Sidgmoresaid. "We are committed to operating WorldCom in accordance with the highest ethical standards.
"I want to assure our customers and employees that the company remains viable and committed to a long-term future," Sidgmore added. "Our services are in no way affected by this matter, and our dedication to meeting customer needs remains unwavering."
Cutbacks To Follow
Sidgmore noted that WorldCom will continue its restructuring efforts, including downsizing its workforce by 17,000 — starting this Friday.
"I would guess there would be a lot more housecleaning in the finance and accounting departments," Giga's Pierce noted.
WorldCom also plans to sell a series of non-core businesses.
For example, walking away from the wireless resale business will save the company $700 million annually. The company also is exploring the sale of other wireless assets and certain South American assets.
Such sales would reduce losses associated with those operations and would allow WorldCom to focus on its core businesses.
A Fragmented End?
However, Jackson of US Bancorp Piper Jaffray said he expects the company to file for bankruptcy before the end of this year. "I don't think it'll go any longer than early January of 2003, because that's when WorldCom has a significant amount of debt maturing," he noted.
And Gartner's McGee said he believes WorldCom ultimately will be "split up and sold off in parts," which might include UUNET, the MCI Group and the company's consumer business.
"I just can't see the situation that has WorldCom surviving as an intact entity," he added.